Doctor of Physical Therapy (DPT)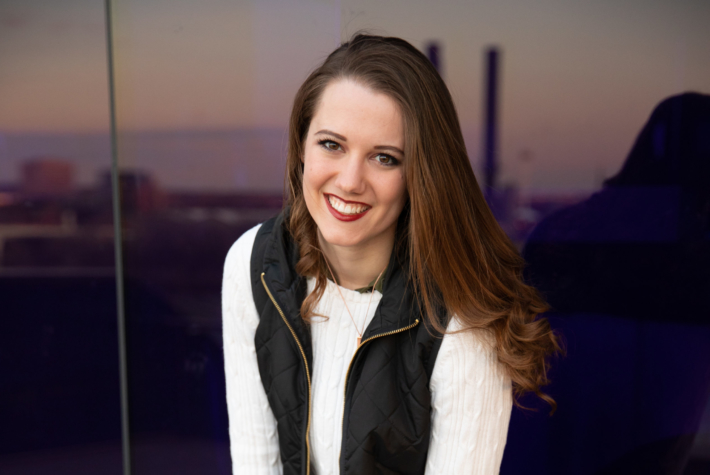 "Physical therapy classes at CSP are always hands-on and we are learning the most up-to-date skills for treating patients. The DPT program will continue to prepare me for my future as a clinician."
Maddy Swain is a 2016 graduate of CSP's biology program. Now, she's an alumna of CSP's Doctor of Physical Therapy (DPT) program, one of CSP's pre-professional programs. We checked in with Maddy to learn how her CSP experience helped shape her path to the DPT program and how the program has prepared her for her career as a clinician.
Q: What do you feel creates a quality academic experience? 
A: I'd say a quality academic experience is one where you are given the resources to succeed. I've always liked the small class sizes at Concordia because my professors actually knew who I was and I felt comfortable coming to them for help. I know I would be lost in a lecture hall of 300+ people. The small classes have carried on to grad school. I'm currently one of only 31 DPT students in our close-knit class of 2020.
Q: Have you been involved in any extracurricular activities like athletics, committees, or other groups during your time at CSP? 
A: I was heavily involved in theatre, dance, and music at CSP. In addition to performing in as many plays, musicals, and dance shows Concordia had to offer, I also worked and ended up managing the theatre costume shop. When it would fit in my schedule, I used the credits that weren't dedicated to biology to take acting and dance classes. I was part of the Christus Chorus and took weekly voice lessons. I appreciated that I did not have to be a theatre major to participate in my passion for the arts. Theatre gave me a creative outlet to let loose and have fun while pursuing a difficult major.
In addition, being able to dance throughout college and having injuries of my own has strengthened my desire to specialize in dance injuries as a future clinician and once out of school, I will get back on the stage.
Q: Have you participated in any volunteer opportunities or internships? How do you feel those experiences have prepared you for professional success and your physical therapy career after graduation?
A:  In order to complete my biology major and in order to apply to the DPT program, I needed to have shadowed physical therapists in multiple different settings. These experiences were very valuable because they not only solidified my desire to continue down this career path but they also gave me ideas for what type of physical therapy setting I would want to work in. I see myself working in an outpatient physical therapy clinic that specializes in dance injuries and incorporates pilates techniques into rehab.
Throughout my time in the DPT program, I will have four clinicals in different settings as well. This time I will actually get to apply the knowledge I have learned in class and get a feel for what working in these different types of clinics consists of.
Q: Tell me more about your clinical rotations and how your classes play into your day-to-day work.
A: I feel as though, so far, the [DPT] program has prepared me well for this clinical and will continue to prepare me for my future as a clinician. Classes are always hands-on and we are learning the most up-to-date skills for treating patients. Concordia also urges us to become involved in the physical therapy community by requiring that we become members of the American Physical Therapy Association (APTA). Every student that graduates from the program will have started new or continued a research project to be presented in the spring prior to graduation. Physical therapy and the medical world, in general, is always evolving with new discoveries being made every day, so it's important that we begin to contribute to some of these new discoveries. Physical therapy is a rewarding career and I'm excited for a future of helping people and building relationships with them.