Physical Therapist, NovaCare Rehabilitation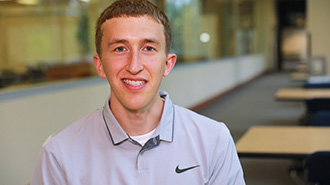 "Knowing that the professors I was working with on a daily basis were also experts in their field helped me to trust them and bounce ideas off of them as far as how to get where I wanted to go."
Nic Rudolph is an exercise science graduate who went on to physical therapy (PT) school at the University of Minnesota. He will begin his career at NovaCare Rehabilitation Center in Edina, Minn. this coming July. During his time at CSP, Nic was able to broaden his horizons and diversify his portfolio by participating in research opportunities with CSP faculty who are experts in their fields and sharpening his leadership skills as a member of CSP's cross country and track teams.
CSP's faculty provided him with not only a foundation of knowledge at the academic level but an interest and passion in his professional development after he graduated. His professors asked where he wanted to go, why he pursued physical therapy, and why he chose to pursue it the way he did.
"I felt like this went above and beyond the call of a professor. It was humbling to be able to have a great conversation with a professor amidst other students or after class and be able to talk about your future knowing that they are investing in your future as well your academics," he explained.
An important part of the exercise science and biology programs is connecting current students with professionals and alumni who have found career success. Nic has been thrilled to share his experience with students who are following the same path.