Student Teacher, Rancho Buena Vista High School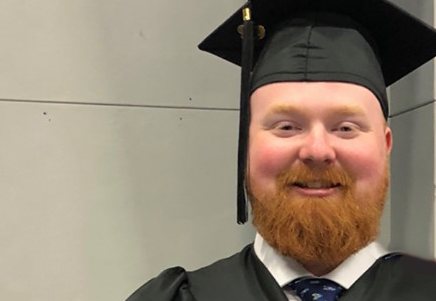 "My time in the history program made me a better scholar and historian, which gave me skills that I can pass on to countless students in my future classrooms."
Patrick Inouye is a 2019 graduate of CSP's history program and, in addition, completed a minor in theatre. Hailing from California, Patrick found a connected arts and theatre community as well as a supportive spiritual community and immersed himself fully in both. Today, he is a student-teacher at Rancho Buena Vista High School in Vista, California and looks forward to passing along what he learned during his time at CSP to his future students. Learn more about Patrick's experience and career aspirations in our interview below.
Q: What brought you to CSP?
A: Looking for theatre! I found out that the Twin Cities has a very connected arts community and wanted to dive into it more!
Q: How would you describe your CSP experience?
A: There were a lot of transitions. I changed majors about three times, took up concert band (which was out of my comfort zone as a percussionist), and went through a lot of different levels of maturity quite fast. There were always two constant threads through it all: my friends being there for me, and the ministry staff to remind me how constant God's love is in my life.
Q: What was your campus involvement as a student?
A: I pretty much did it all except any official sports. From choir, band, and dance to acting in the theater and taking up voice lessons, I've seen the broad spectrum of opportunity that is available for students at CSP. It was the perfect environment to try it all, find what I was great at, and learn a vast array of new skills along the way!
Q: What has your career path been since graduating?
A: I am currently in a teacher certification program at Cal State University San Marcos, in San Diego County, California.
Q: Describe your current job role and responsibilities:
A: Student teaching has been my job for the last couple of months. It doesn't pay anything, but most consider this a rite of passage to becoming a teacher. It's been an emotional experience early on in my career learning about the realities that some of my students face and that I need to be a comforting presence for them as they figure out who they are in high school.
Q: What are your career goals?
A: The dream career path is to be able to teach history at the high school level while getting to direct a few dramatic plays on the side.
Q: Who were some of the people at CSP that influenced you the most, and how?
A: Shelly Schwalm is always the first person to come to mind when I think of CSP's impact on me. Shelly has been a friend when I needed it most and has been a mentor especially when I needed it most.
I also love to give a shout out to Barb [Tritch]. She's an incredibly bright light to those on campus and gives the rest of us a clear example of showing God's love in everything that we do! Altogether Dr. Mennicke and the music department, Mark Rosenwinkel and the theatre department, and my professors in the history department all helped shape my perspective towards art, issues in the world, and find the beauty in each individual's story.
What are your favorite CSP memories?
As a Southern California native, waking up in the morning to the first snowfall was an incredible experience. It was followed by everyone trying to snowball the Californian. I got snowballed indoors as well. It was a great time.
I also loved getting to worship at 908 with my fellow classmates. It didn't matter if I was behind a drum set or not; I loved getting to sing songs and heard Word next to my best friends.
I traveled EVERYWHERE during my time at CSP. I went north, south, east, and west from St. Paul and got the full Midwest experience. On top of that, I was able to travel with Christus Chorus to Germany, Poland, and the Czech Republic for the international choir tour.
How has your CSP education impacted your life and career?
My education at CSP taught me how to view our nation thoughtfully, purposefully, and with a conviction that we can always be better neighbors to those around us. I take the lessons I learned about grace and have been able to apply it towards my students as they maneuver their high school years. My time in the history program made me a better scholar and historian, which gave me skills that I can pass on to countless students in my future classrooms. I can undeniably say that CSP's greatest impact on my life was the close friends I was gifted to meet while on campus. I love every single one of them and it makes my heart happy when I get to see them again!