Football Analyst, Minnesota Vikings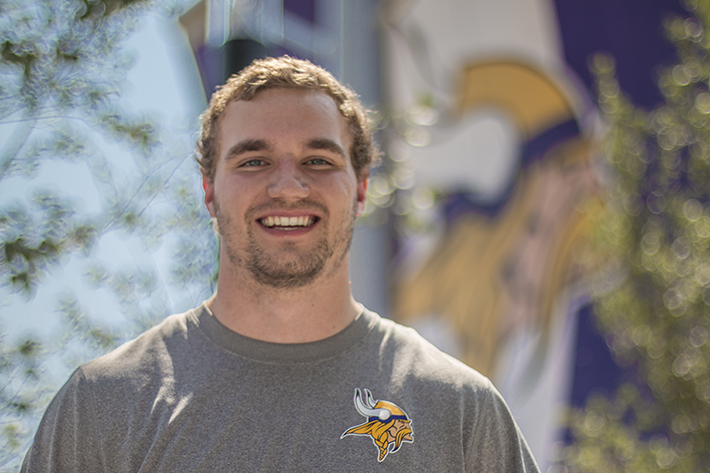 "My Concordia education taught me hard work is the key to success. I think the biggest impact my professors had on me was motivating me."
When the Minnesota Vikings take the field this season Concordia mathematics graduate Rex Johnson will play a small, but important role in the teams' overall success by using his technical skills to help evaluate position players using advanced analytics.
Hired full time by the Vikings this past spring as a research analyst – a newly created position within the team's emerging analytics department – his path to the National Football League began at CSP by way of an internship he had with Vikings his senior year.
"I have been a math guy all my life and I have contemplated so many different directions my math degree could lead me," Johnson said. "Prior to this opportunity, I had just completed an advanced statistics course which I thoroughly enjoyed. At that point, I was very interested in applied mathematics and when this came knocking at my door I knew I had to pursue it."
As part of his duties, Johnson will collaborate with the team's director of analytics, coaches, scouts, and the general manager to determine what type of studies to gather data on. The amount of data available to analyze is endless according to Rex, however, it's his role to make sense of what it all means.
"I supply the analysis and it ultimately comes down to how our coaches want to implement them. The extent to which they use the analysis is something I may never know."
Johnson said his main goal is to help the team's decision-makers be informed on things they might otherwise not be aware of but recognizes its just one part of the entire process of placing a winning team on the field.
"Analytics will never replace coaches and their abilities but I do believe it can help enhance their decision processes," Johnson said.