Medical School Student, Vanderbilt University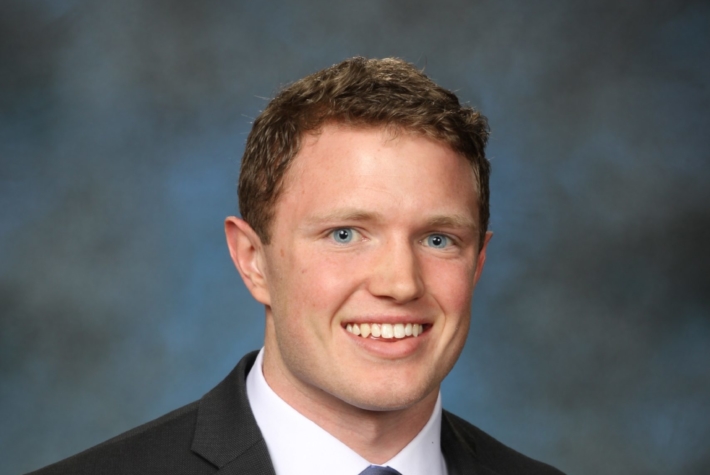 "The faculty, particularly those in the science department, truly care about you and your academic success. They pushed me to achieve and exceed my own expectations."
Sam Johnson is a 2017 CSP biology graduate and current research analyst in pediatric orthopedics at Vanderbilt University Medical Center in Nashville, Tenn. Recently, Sam gave us a peek into what made his CSP experience so pivotal in his current role at VUMC and in his medical school journey.
Q: Tell us about your job responsibilities at Vanderbilt University Medical Center.

A: Our lab takes a closer look at how the human body responds to tissue injury and how tracking that response can improve hospital outcomes. My responsibilities as a research analyst include reviewing patient data, meeting patients, collecting samples for studies, and working with animal models resembling various orthopedic diseases. Currently, my focus is centered on tracking inflammation and coagulation in pediatric patients with severe musculoskeletal infections.
Q: Tell me about the CSP faculty in your program Do you feel that you established significant relationships with them and what importance did those relationships have in the quality of your classroom experience?

A: Yes! Absolutely. This is a large reason why my experience at Concordia was so great. The faculty, particularly those in the science department, truly care about you and your academic success. My relationships with faculty members pushed me to achieve and exceed my own expectations.
Q: Following up on that, tell us about a faculty member who's been especially helpful or influential to you. In what ways did they impact your time at Concordia?
A: I can't pick a favorite among the professors I had at CSP – everyone was so wonderful. But, Dr. Yang, in particular, was incredibly helpful and influential in the three years I had her as a professor and mentor. She pushed me as an academic, researcher, and medical school applicant. She made sure I held myself to a high standard and always set out to exceed my own expectations. She was incredibly understanding, compassionate, and always wanted the best for me and my fellow classmates. We stay in touch to this day and I make sure to keep her up-to-date with everything that happens in the application process. I owe a lot to Dr. Yang and her influence is a large reason why I've chosen to pursue both research and medicine.
Q: Did CSP's biology program prepare you to tackle the application and interview process? Explain.

A: YES! The science faculty at CSP was always available to answer any questions I had regarding the application process. If they didn't know an answer to a question, they got me in touch with a student/alumni who had the answer. They were wonderful about proofreading essays, scheduling mock interviews, and writing letters of recommendation.
Q: Given how extensive the application process to med school is, how did it feel to find out that you were accepted to Vanderbilt?
A: It was a very emotional time when I found out I had gotten into Vanderbilt. The application process was an exhausting couple of months, but there were YEARS of hard work that went into getting to that point. When the moment came, I had a hard time processing it right away. It took a week before I finally realized what had happened and felt a sense of elation/excitement. It was a whirlwind, but when it finally sank in, I was thrilled to have been accepted!
Q: How long is your program and what will it entail? Class, residencies, etc.?
A: Medical school is four years and after graduating, I will start a residency that will vary in length from three to seven years. Vanderbilt's curriculum is very unique in the way that we only have one year of classroom training before we start on rotations (most schools will have two years of classroom training before seeing patients). Unfortunately, that does mean we have two years of material condensed into one year, so I've definitely had a busy start at medical school!
Q: What are you looking forward to most during med school? Are you nervous about any aspect of it?
A: I'm most looking forward to meeting patients. Vanderbilt has a really cool aspect to their curriculum in that we get to work in the clinic one day a week seeing patients and learning clinical skills. I prefer talking with and meeting new people over learning out of a textbook, so I'm really excited to start in clinic!
I'm definitely nervous about how much material there is to learn. As I mentioned, it's two years worth of material condensed into one, so it's definitely going to be a busy (and at times, very stressful) first year!
Q: If you could give advice to a student who wants to pursue a similar career path, what would it be?

A: BE RESILIENT! The medical school process is incredibly competitive and difficult to pursue. If you choose that path, you need to be ready to roll with the punches. There are times that things will not go as planned and how you respond will be indicative of how you will be as a physician. Also, be prepared to take some time off after graduating. I took two years off and it absolutely made me a more competitive applicant, better scientist, and happier person.
After completing medical school, Sam hopes to pursue orthopedic surgery. A member of CSP's Golden Bear football team during his undergraduate career, he hopes to continue working with athletes.