Graduate Assistant of Compliance and Student Services, Minnesota State University Mankato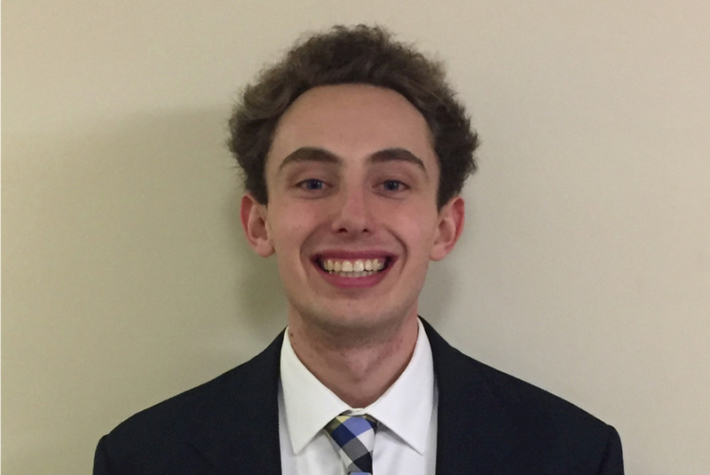 "The faculty at Concordia really shaped me and changed me from my freshman to senior years. People in every department are willing to make an impact on you."
CSP alumnus Tanner Peterson fell in love with sport psychology in high school, so when it came time to choose a university, he knew that was the route he wanted to pursue. Tanner followed his passion for sports through other means as well including as the sports editor for Concordia's student newspaper, The Sword and hosting the CSP Bears Podcast with CSP Athletics. Following graduation, Tanner headed to Mankato to begin his graduate degree at Minnesota State University Mankato and is currently serving as their graduate assistant of compliance and student services. We caught him while he was in the Twin Cities to reflect on his time as a Golden Bear, how it influenced his decision to continue on to grad school, and the ways he hopes to grow in the future.
Q: What do you think creates a quality academic experience?
A: Faculty. I think the faculty at Concordia really shaped me and changed me from my freshman to senior years. Along with the faculty, others I met along the way – be it students, Dr. Chatman, or Barb in the Dining Hall, people in every department everywhere are willing to make an impact on you.
Q: Share a favorite moment from your time at CSP.
A: Being the sports editor [for The Sword] and all that I was able to do with networking with the reporters that I read in the newspaper, going to the Super Bowl, [Minnesota] Vikings training camp. Also, something that resonates with me is meeting Dr. Chatman. She was a big influence on me. She shaped me during my four years and seeing the love that she provided to the freshman that she'd never met before was amazing. I was in the gospel choir with her and she helped me along the way, showed me love and care, and that's a trait that's not found in everyone, so when you see it, you kind of know to hold on to it and that's special. That and trying to replicate it and give that love and care to others has stuck with me and a textbook can't really teach that.
Q: Concordia's campus is an urban, diverse location. Did that play a role at all in your studies and if so, how has it prepared you for your career?
A: I feel more prepared to be in my field because I've been exposed to so many different groups of people – be it race, culture, religion, political view, or walk-of-life. I could walk through the halls of campus and talk to people with different religions and all going to the same school and part of the same community.
Q: Did you participate in any internships? How did those experiences prepare you for your next steps?
A: I did an internship with the Duluth Huskies baseball organization and their summer league baseball team. It's made up of college kids from across the country and I was able to teach mental skills and produce mental toughness to help them use their minds to improve performance rather than debilitate it.
Q: Do you feel that you established significant relationships with the faculty? What importance did those relationships have on the quality of your CSP experience?
A: When I hear my friends talk about their faculty and I talk about mine, it's comparing apples to oranges and not the same thing. I look at my faculty as a mentor, but also a friend, supportive person, and a mentor before professor whereas other schools, you might not even meet your professor. I don't think enough can be said for the staff and faculty at Concordia. Dr. Lana Huberty advised my friend and me to go to an internship fair where I was connected with the team [Duluth Huskies] and was offered the opportunity. She walked me through everything. Even after college, I still keep in touch and tell her what I'm up to. Same with Dr. Matthew Buns. He's not just a professor I had – he's a mentor and role model that will always have an impact on me. I plan on keeping that relationship forever.
Q: Did you pursue any extracurriculars or groups at CSP? If so, why did you join and what was your experience like?
A: Being the sports editor sparked an interest in writing. I started working for the newspaper because it was the best paying job on campus! I didn't enjoy writing and wasn't a writer. I became the sports editor because I liked sports and talking to athletes and it was something to put on a resume. Now, me and [my friend] Cole run a website called Breakdown from the Bench where we write about analytics and psychology in sports. I definitely would not have done that without The Sword. 
Q: Did you encounter any challenges? If so, how did you work through or overcome them?
A: I was chosen to make a speech for chapel service and I said I would do it, but I put it off until the week of, so I whipped a speech up. It went horribly wrong, just terrible. At the time, I was embarrassed. It was a cornerstone of my time at Concordia where I realized that you can't go places or do stuff without putting effort and work into it. It doesn't matter how good you think you are – if you aren't working hard, it doesn't matter. It was a learning moment. Since doing that, I've done probably five public speaking events with teams throughout sport psychology. If I wouldn't have done that and got over that failure and learning from it, I wouldn't have the opportunities I'm having now.
Q: Is there a specific project or class that you refer back to in your current position? What about it made it so relevant? 
A: Working on the newspaper and as the athletics podcast host, learning to connect with people within minutes and developing a relationship where there's a lot of trust, and as I'm advising student-athletes, it makes it a lot easier to discuss what they want which makes my job easier.
Q: What are your next steps? Do you feel prepared? 
A: Either at a university or working with professional or elite athletes whether that be college or professionals. I'd like to work with them to help them have their mind work for them instead of against them in sports.
Q: How do you feel CSP prepared you to pursue your path? 
A: At Concordia, the staff and the people around me allowed me to develop a self-confidence that I didn't have before being the sports editor, hosting the CSP Bears podcast, joining a choir, and doing all of these things, getting out of my comfort zone, and having people push me to be better. It's developed a confidence that I wouldn't have developed if I had gone to a different university. Whether I'm working as a sport psychologist or teaching a class, I think I'll feel confidence just because of how CSP impacted me.
Q: You're pursuing your master's in sport psychology! Tell us about what that process was like.
A: A master's is the baseline or minimum that you need for a role in sport psychology. I had an idea that I'd have to do it at some point. I researched programs and Minnesota State University Mankato was the closest. When I met the faculty, staff, and cohort, it was the first time since I was at CSP where I felt it was home and family.
Q: What was the application process like?
A: I talked about my time at CSP as a sports editor, willingness to push and try the envelope and say, "Hey, I'm a sports editor for this small university, but let's get credentials for the Super Bowl!" It's something my mom taught me – the mentality of "Why not me?" That attitude has opened a lot of doors for me.
Q: If you could give advice to a student who wants to pursue a similar career path, what would you tell them?
A: I would say to do things that scare you and get out of your comfort zone to network, get to know people that you don't think you would get along with or that you wouldn't normally talk to. I think doing those things and challenging yourself is what college is all about. If you aren't challenging yourself, you are shortchanging yourself.
Tanner relocated to Mankato this past spring to pursue his graduate degree and is excited to share that his younger brother will begin as a freshman at CSP this fall.