Associate Veterinarian, Desert Inn Animal Hospital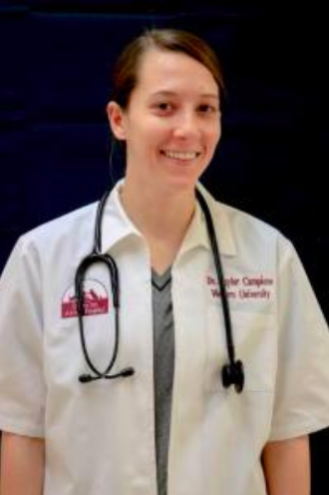 "I had an extraordinary academic experience at CSP. I found my calling in veterinary medicine here and I don't think I would've been able to accomplish my dreams without it."
CSP's tight-knit community made a lasting impression on Taylor Campione, who graduated with her biology major and chemistry minor. She gravitated toward the science department where her passion for biology and chemistry took shape. "The department's faculty inspired me and helped me realize that I loved learning about science."
That realization led to her discovering an interest in veterinary medicine. CSP's faculty helped her find the path to pursue her goal of becoming a veterinarian.
"Dr. Bakke suggested that I explore the veterinary profession. Somehow I never thought I was capable of doing that!" Taylor explained. "She was encouraging and her course material was comprehensive which provided an excellent baseline for vet school."
Campione was also a member of the Golden Bears soccer team which formed friendships that she still maintains today.
"I had an extraordinary academic experience at CSP. I found my calling in veterinary medicine here and I don't think I would've been able to accomplish my dreams without it."