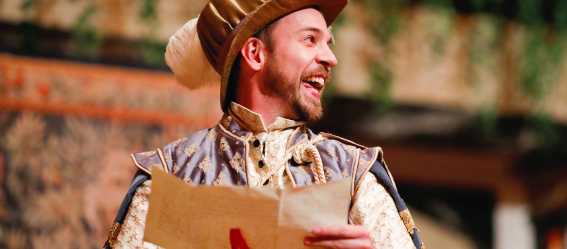 "The thing I love about Concordia is that all the departments understood they needed people from multiple departments to work together in order to thrive. The school is very good about letting students explore other areas and try lots of things."
After experiencing great high school teachers in South Dakota, Tim Sailer's plan was to become a high school English teacher and direct plays. He had received theatre and music scholarship offers from Concordia, and since it seemed to him a great fit, he enrolled. Sailer ultimately decided to double major in English and theatre after taking several teaching classes and being cast in multiple plays.
"Concordia's theatre faculty brought in guest artists who were making a living in theatre jobs and carving their own paths," explains Sailer, "so I was shown these great models of people making a living in the arts."
Now Sailer is doing the same, having worked as an actor for almost nine years. Along the way he completed the University of Houston's MFA Professional Actor Training Program, where he worked 15 hours a day, five days a week for months honing his skills through stage combat, dialect and acting classes, and play rehearsals.
Since 2013, Sailer has lived in Stanton, Virginia, where he works at the American Shakespeare Center (ASC) with 11 other actors to put on plays in a rotating repertory. During his five years at ASC, Sailer has appeared in 35 plays.
"Being at ASC has been marvelous. They house me, and it's in a great town in the Blue Ridge Mountains, two hours south of D.C. It's been a lot of fun," says Sailer. "My favorite roles have been playing Cassius in Julius Caesar and Horatio in Hamlet."
Sailer greatly appreciates the hands-on, experiential learning opportunities he received at Concordia, and, in hindsight, finds it amazing that he could be sitting in a class with 20 other students in the morning, and then in the afternoon they'd be working on plays—all in the same building. He also appreciates the experiences he had and the connections he made through his instructors. These things helped him realize there isn't just one way to be successful and that success is how you define it.
"Mark Rosenwinkel (['77), Chair of the Department of Theatre and Dance] was just starting when I was at Concordia, and he'd say, 'My friend is playing the lead at the Guthrie, and the opening is tonight. Would you like to attend?' We'd go to the opening performance as well as the party afterward for the cast and crew," Sailer recalls.
"That guided, practical experience and insight … I wouldn't trade that for the world," reflects Sailer.
"The thing I love about Concordia is that all the departments understood they needed people from multiple departments to work together in order to thrive. The school is very good about letting students explore other areas and try lots of things," says Sailer. "It was a small, safe place in a big city, and I found really wonderful, close-knit groups of friends and peers who learned to work together. All the stuff I love doing happened at Concordia."