Wolves/Lynx Assist, Minnesota Timberwolves/Lynx | App Team, Minnesota United FC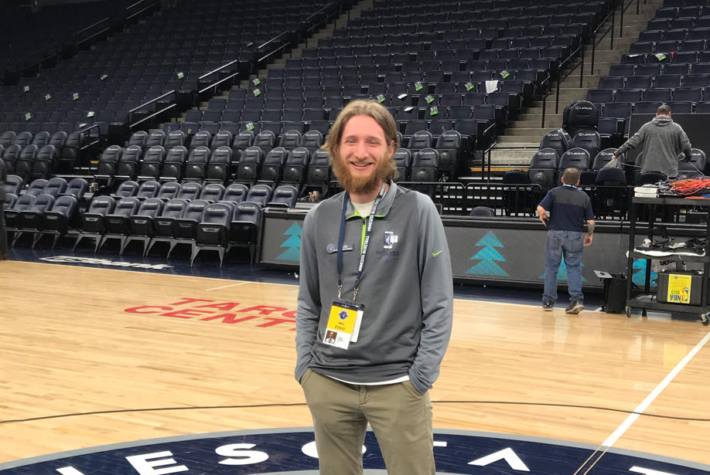 "Transferring schools is never easy, but I had plenty of faculty members make the transfer process less difficult. I quickly felt comfortable and like I belonged at CSP."
Tyler Anderson graduated in 2019 with a bachelor's in sport management and a minor in business management and was a member of the Golden Bear Cross Country and Track teams. He is currently with with the Minnesota Timberwolves/Lynx organization as part of their Wolves/Lynx Assist group that focuses on customer service and mobile ticketing and is a part of the Minnesota United FC's App Team where he aims to create a positive fan experience, answer questions, interact with and help fans and guests with whatever they need. In addition, has returned to CSP to pursue his graduate degree in coaching and athletic management.
We had the opportunity to check in with Tyler to see how his bachelor's degree has prepared him for his current roles and what inspired him to take the leap into grad school.
Q: You mentioned that you transferred to CSP. What factors did you consider and what was your experience like?
A: I transferred to Concordia because I felt engaged in class and the track team was a perfect fit for me. I felt like I was able to have control of my learning experience at CSP. Transferring schools is never easy, but I had plenty of faculty members make the transfer process less difficult. I quickly felt comfortable and like I belonged at CSP.
Q: Why did you choose Concordia University, St. Paul?
A: I chose CSP because the [health sciences] faculty were so helpful and caring during my undergraduate experience. I was eager to be a part of the new MA in Coaching and Administration because it seemed like a great way to help me reach my career goals. I wanted to stand out to hiring managers by having been involved in such a new and unique area of study.
Q: Do you feel you established significant relationships with your faculty?
A: Yes! The faculty were always willing to talk between classes and were helpful whenever I needed guidance. I felt like my professors genuinely cared about their students, and I have made some significant relationships with them.
Q: Did you participate in any extracurricular activities like athletics, student committees, or other groups? Did those groups impact your goals or career path?
A: I participated in cross country and track and field as well as SAAC. I'm currently doing my last year of track this year. Being on the cross country and track team helped me learn how to set goals and work hard to achieve them. Training so hard in this sport makes other areas of life seem less challenging.
Q: Tell us about your graduate studies. What made you decide to pursue coaching and administration?
A: As someone who wants to work in coaching or team operations, the program seemed like it was designed perfectly for me. I also liked how the program was related to sports, but diverted away from the area of sport management that I studied as an undergraduate student.
Q: How does this align with your career aspirations?
A: I hope to work in coaching and athletic administration and the courses seem like they offer many tools that will be beneficial to me in the future.
Q: If you could give advice to a student who wants to pursue a similar career path as yours, what would you tell them?
A: Get involved with opportunities as they arise; don't be afraid to say yes!