Senior Law Firm Consultant - Large & Mid-Size Law Firms at Thomson Reuters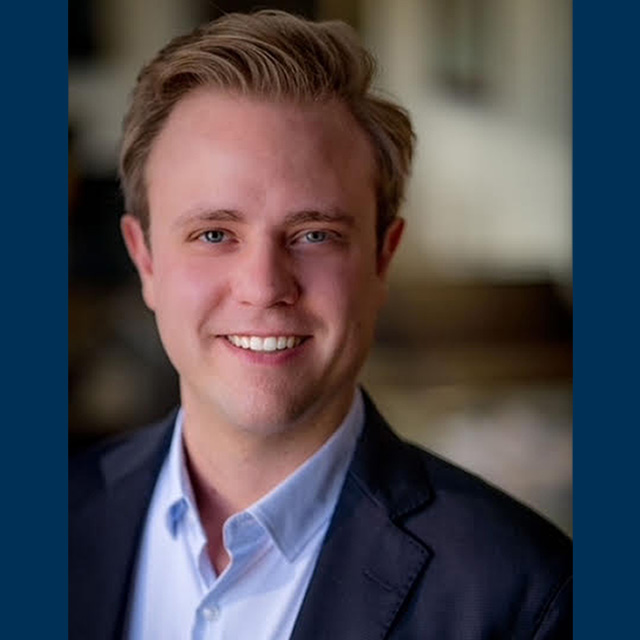 CSP Alum Ascends to the Top at Thomson Reuters
CSP alumnus Tyler Trost, BBA '12, knew Concordia University, St. Paul was the right school for him to get an urban and diverse educational experience while maintaining the proximity to his hometown and family. Concordia's strong Christian values also resonated with Trost, ultimately making his choice an easy one.
One attribute at the top of Trost's college list was to be in a metro setting to have access to the kinds of opportunities he was seeking post-graduation. With the Twin Cities' large corporate base and Concordia being midway between two downtowns, Trost feels he was able to experience diversity in an important way.
"Being in an area which is diversely urban and near two major cities helps prepare students for better conversations and understanding in working relationships with others that may come from a different background or upbringing than you. It makes you a more well-rounded student and, ultimately, person."
One of Trost's favorite aspects of Concordia was the small class sizes and the one-on-one relationships he was able to form with professors and his peers.
"I value greatly the personal commitment of the staff, faculty, professors, and ways in which the student body all cares for the success and personal development of each and every student that walks through the front doors of CSP. The dedication to success and striving towards making each experience a great and rewarding one is something I will always remember and appreciate."
Today, Trost serves as a law firm consultant for Westlaw (a Thomson Reuters Business) serving clients in Downtown Los Angeles, Pasadena, Costa Mesa, Newport Beach, and surrounding areas in the company's large & mid-size law firm segment. There, he creates, fosters, and maintains new and existing business relationships by providing legal professionals with market-leading legal solutions offered by Thomson Reuters. In addition, he helps clients identify and clarify the needs and areas of opportunity within a particular legal practice for the firm to help them be more efficient and profitable.
After joining Thomson Reuters in 2013, he found success early on in the FindLaw marketing business sector. Eventually, he transferred to the Westlaw online legal information business as a FIT (full inside territory) sales consultant. In FIT, he finished 2014 as a top sales consultant with 140% of sales attainment.
At the beginning of 2015, he shifted gears and relocated to California to serve as a law firm consultant for the small law segment (SLF) in Los Angeles. He finished 2015 as the Top Account Executive in the SLF Western District in both attainment (157%) and total dollar sales ($550,000.00) with President's Club Honors.
In 2016, he earned those honors again finishing as the top law firm representative in the United States at an incredible 203.86% attainment to quota and $819,564.19 in total closed sales. His success continued into 2017 where he earned the number one spot as Overall Sales Consultant finishing at 210.94% of new sales closing with over $864,176.13 in volume dollars helping him to qualify for the President's Club trip to Rome, Italy. However, Trost's greatest achievements came in 2018 when, for the third consecutive year, he won Rep of the Year, achieving the highest overall sales performance in the Thomson Reuters Small Law Firm sales organization at 282% of sales quota, 176% of renewal quota, and selling $1,154,063.34 which was a new Thomson Reuters Small Law record still standing today. This was capped off with his fourth consecutive President's Club trip to Punta Mita, Mexico.
In 2019, Trost embarked on a new career journey when he transitioned his skillset to the newly created large and mid-size law firm segment. Here he finished again as the top sales consultant in the country at 185% attainment to sales quota, $2,120,000.00 in total dollar new revenue, and 136% of overall renewal attainment which earned him his fifth consecutive President's Club trip to Budapest, Hungary.
After a year like none other, 2020 saw a global pandemic shake the world as we know it. Trost saw challenges like no other as markets came to a standstill and budgets froze across the world. It was here where he reinvented himself in a pivotal and career-defining moment and he was once again able to retain the title of top sales consultant in the U.S. finishing at an impressive 165% attainment to sales quota, $1,986,000.00 in total dollar new revenue, and 132% of overall renewal attainment which earned him his sixth consecutive President's Club trip.
Reflecting on his career success, Trost emphasized the importance of listening and learning from others as key – particularly for students desiring to follow a similar path.
"Learn from others, hear their perspectives, participate in group projects and learn from people that are around you," he said. "The path you choose may not always be the correct one, although it may bring you to the finish, someone else may have already discovered a faster, more efficient way. Keep an open heart and open mind to learning and do not discourage or disparage others for another view."