Congratulations on your acceptance!
We are thrilled to welcome you to the Postsecondary Enrollment Options (PSEO) Program at Concordia University, St. Paul!
ADMITTED PSEO STUDENTS: NEXT STEPS
Connect with other golden bears!
Message our account directly with a photo and bio to be featured!
Instagram: @concordiastpaul
Facebook: /concordiastpaul
Each incoming student in the on campus PSEO program must submit a photo to Card Services to be used for their CSP ID.

ID cards will be available for pickup at Card Services (Meyer Hall 124) during the first week of classes.

Note: If you are taking all your PSEO courses online, you will not receive or need a CSP ID card

Textbooks will be available for pickup at our Admitted Student Day Open House events and during the first week of classes.


NAVIGATING TO THE BOOKSTORE | CSP Map & Directions

University address: 1282 Concordia Avenue, St. Paul, MN 55104
Park in campus Lot B (free! no permit required)
*Lot B is located on Hamline Avenue, approximately 1 block south of Concordia Avenue
Enter CSP at the Library Technology Center (east of Lot B)
Turn left down the hallway past our Comet's Café and Library, and you will see the CSP Bookstore main entrance
Go past the main entrance, and turn left down the hallway

REMEMBER TO BRING:

Your CSP ID number (i.e.: L00XXXXXX)
Your CSP class schedule (printed copy or ability to pull it up on a device)

If you plan to park on campus or commute to your classes, you must register any vehicles with CSP Security.

To register your vehicle(s) online please go to our parking permit registration site.

Ensure you have the following information available:

Your name, phone number and address
Your student ID number
Your vehicle make, model, VIN number and license plate

Once you register online, you can pickup your permit from our CSP Security office (Meyer Hall 124) during the first week of classes.

We know that most of you are new to CSP, and as you prepare for your first day of class, you may be wondering how you will navigate around campus. We want to help!

To view your class schedule:

CSP Student Portal Steps

Go to the Registration Card
Click on View Student Schedule by Term
Select current term

To find your classes on campus:

Prior to the first day of classes your schedule will be updated with the classroom building code and room number your class will be held in
Use this map to find your class locations

Need more help?

CSP staff will be posted around campus on the first days to help guide anyone who needs assistance
Feel free to stop by the Office of Admissions (LMC 100) or the Academic Advising Center (Luther 110) and we will be happy to help

Concordia participates in the College Pass program through the Twin Cities Metro Transit.

Bus passes cost $165 per semester and are valid for use on the following dates:

Fall: August 15 – December 31
Spring: January 1 – May 31

A Summer Semester College Pass costs $85 and is valid between June 1 – Aug. 14.

Passes can be purchased at our cashier window on campus once they become available.

Cashier location: Administration Building (AD) 115
Cashier phone: 651-641-8206
Cashier hours:  8am-4:30pm, Monday-Friday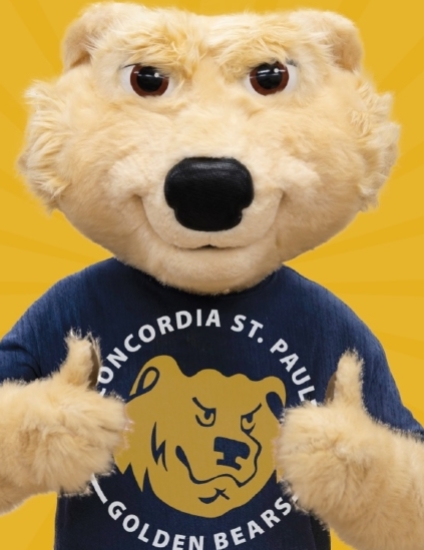 We know you're in the midst of the college search process, and we hope you're considering CSP! Because you're enrolling in our PSEO program, you're eligible for our CSP PSEO Scholarship, which awards $1,000 annually to PSEO alum in our traditional undergraduate program.
Learn more about undergrad admissions
Class Registration FAQ
PSEO students will be invited to register for classes via email.

Credit load can vary from 4-16 credits per semester. Typically, Juniors may take up to 12 credits per semester and Seniors may take up to 16 credits.

Primarily general education courses, a selection of elective, and major course offerings. Course levels must be in the 100 – 200 range. Additional approval is needed for any courses above the 200 level.

Excluded from PSEO: Religion courses, private music lessons, independent studies, summer courses, courses with required travel, work-study, DII athletic, sand upper-level courses (300-400).

Open the CSP Course Catalog
In the "Search by Term" field, select "Fall Semester 20XX"
From here, you may customize your search as you wish:

Subject field

To search all subjects: Click on the first option (Accounting), scroll to the bottom of the list, and select the last subject (Theatre) while holding the "Shift" key
To narrow your search by subject: Click on your subject of interest. To select multiple subjects, hold on the "Ctrl" key while selecting the areas of interest

Schedule Type field

PSEO students are eligible to take courses from the "Traditional Face-to-Face", "Traditional On-Line" and "Continuing Studies On-Line" options

REMINDER: PSEO students can only take courses between 100 – 299 *The level is indicated before the title of the course

No.  PSEO students are only eligible to register for fall and spring semester courses.

The cost for all required textbooks is covered under the PSEO program. It also covers supplies that are required specifically for a class (ie: art supplies, film, etc.).
Textbooks and materials provided to the student are the property of the postsecondary institution and must be returned by the student after the course has ended.
The program does not cover general school supplies such as notebooks, pens, pencils, etc., or non-consumable supplies such as, instrument rental, uniforms, etc.
Shipping costs will be the responsibility of the PSEO student.

According to MN Statutes section 124D.09 Subd. 20,

"All textbooks and equipment provided to a pupil and paid for under subdivision 13, are the property of the pupil's postsecondary institution. Each pupil is required to return all textbooks and equipment to the postsecondary institution after the course has ended."

Therefore, all PSEO textbooks and materials must be returned to the Concordia University Bookstore by the last day of Finals Week within the semester in which the books were used.

If a PSEO student fails to return textbooks and materials to the Bookstore by the end of Finals week, a hold will be placed on the student's record. The student will not be able to purchase any additional books and materials for the following semester until a fee equal to 100% of the original purchase price is paid in full at the Business Office.

The Bookstore cannot accept textbooks and materials for return after the semester deadline.

Students who wish to participate in the PSEO program for subsequent semesters must complete and submit the "Post Secondary Enrollment Options Program Notice of Student Enrollment" Form (Form ED-01763-11) to the Academic Advising office each semester.

Please refer to our academic calendar for important dates throughout the academic year.

You will only need to take a math placement test if you plan to enroll in math courses. All other courses do not require a placement/accuplacer exam.