University Information & Resources
Concordia University, St. Paul is committed to providing a safe and healthy workplace for all our faculty, staff and students. To ensure we have a safe and healthy workplace, we have developed the following COVID-19 Preparedness Plan in response to the COVID-19 pandemic. CSP follows Centers for Disease Control (CDC) and Minnesota Department of Health (MDH) recommendations. Managers and workers are all responsible for implementing this plan. Our goal is to mitigate the potential for transmission of COVID-19 in our workplaces and communities, and that requires full cooperation among our employees and students workers and management and students. Only through this cooperative effort can we establish and maintain the safety and health of all persons in our workplace. CSP recognizes the constantly changing environment and will continue to update the plan and procedures as new information becomes available.

ADMISSIONS UPDATE – JUNE 15, 2021

As your academic year comes to an end, we celebrate your achievements and look ahead with anticipation. At CSP, we wanted to update you on a few items:

Please contact us with any questions you may have. Enjoy your summer!

The Office of International Student Services is looking forward to welcoming international students back to CSP. ISS has received many good questions about the return to campus and classes, housing, and fall immigration requirements for F-1 students. The Fall Semester 2021 FAQ in the ISS Portal has answers to the most common questions and more. Please contact ISS with your additional questions at iss@csp.edu.
Frequently Asked Questions
We are looking forward to welcoming students to campus for an exceptional academic year of learning. The university will begin the fall semester with our normal face-to-face courses. If space modifications are warranted, CSP will be using recommendations from the Center for Disease Control and the Minnesota Department of Health higher education guidelines to inform our classroom and lab class layout. Physical distance, masking, and cleaning requirements will follow this guidance all around our campus. The university's COVID-19 response plans, which will include classroom social distancing adaptation, will inform classroom layout modifications.

Our team has been hard at work and are continuing to update our procedures to create a safe, healthy living environment. For new residential students, we have reserved Wednesday, September 2 for your move-in day.  This day prior to the start of Welcome Weekend on Thursday, September 3 will give you time to unpack, settle in and get to know what living in the residence halls will be like this Fall. Our student staff will meet with you to discuss policies, procedures and community living expectations during a global pandemic. More information will be forthcoming from Admissions and Residence Life and is also available on the Student Life FAQ section here.

Learn more about CSP's financial aid process and other frequently asked financial aid questions.

As we welcome our student-athletes back to campus this summer and resume operations in the fall, learn more about what to expect in terms of practice, venues, game operations, and the fan experience here.

Find the latest information for CSP employees as we turn the dial and return to campus to prepare for the fall semester here.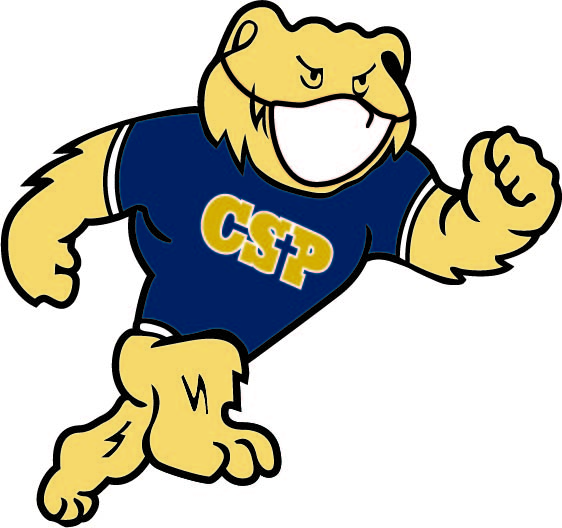 We are all in this together. If you have additional questions please do not hesitate to contact us.
staysafe@csp.edu
COMET'S COMMITMENT
As part of our priority to create a safe and healthy environment for everyone at CSP, we are asking you to adhere to our Comet's Commitment. This commitment asks you to both follow health mandates and guidance in both on and off-campus settings and encourage others to observe safety guidelines to help ensure the health and well-being of the campus community. We are all in this together as you work to achieve your educational goals.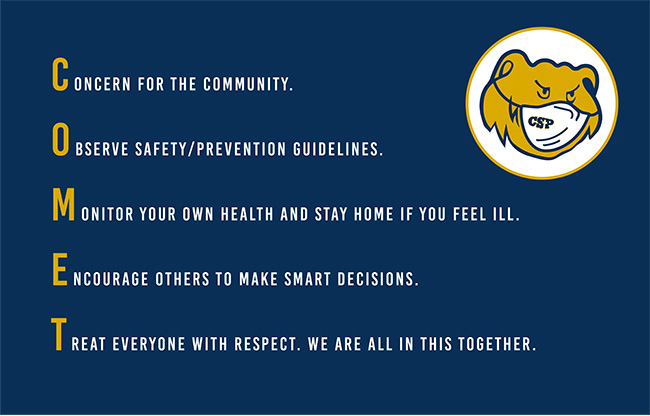 Glossary of Key Terms
Someone who is tested for the disease and a lab proves that they have it, communicated through the Minnesota Department of Health (MDH). Also referred to as "confirmed positive"

Based on the Minnesota Department of Health (MDH) and CSP's definition of close contact, they would appear to fit the definition. The student is contacted by the University and the University provides contact to the MDH. While this individual is waiting for contact by the MDH for evaluation, they should study remotely, be quarantined and avoid all campus functions. If experiencing any symptoms, the student is advised to consult a medical professional. The student should not return to class or campus activity until notified by MDH and campus contact tracing team. The student is advised to check CSP email and be responsive to phone calls/voicemails from MDH and the University.

Someone who was within 6 feet of an infected person for at least 15 minutes starting from 2 days before illness onset (or, for asymptomatic patients, 2 days prior to specimen collection) until the time the patient is isolated. Factors to consider when defining close contact include proximity, the duration of exposure (e.g., longer exposure time likely increases exposure risk) and whether the individual has symptoms (e.g., coughing likely increases exposure risk).

The separation of a person or group of people known or reasonably believed to be infected and potentially infectious from those who are not infected to prevent spread of the virus. Isolation for public health purposes may be voluntary or compelled by federal, state, or local public health order. Also referred to as "self-isolation"

The separation of a person or group of people reasonably believed to have been exposed to the virus but not yet symptomatic from others who have not been so exposed to prevent the possible spread of the virus. Quarantine may be voluntary or compelled by federal, state, or local public health order. Also referred to as "self-quarantine"

Social distancing, also called "physical distancing," means keeping a safe space between yourself and other people who are not from your household. To practice social or physical distancing, stay at least 6 feet (about 2 arms' length) from other people who are not from your household in both indoor and outdoor spaces. Social distancing should be practiced in combination with other everyday preventive actions to reduce the spread of COVID-19, including wearing masks, avoiding touching your face with unwashed hands, and frequently washing your hands with soap and water for at least 20 seconds. Also referred to as "physical distancing"

A person who may have the disease. The person did not get a lab test, or the test did not prove they have the disease. The person shows signs of the disease and is someone who is likely to have it. A doctor or another health care provide may decide (diagnose) that the person has the disease. Example: A CSP student-athlete may present a high temperature or other symptoms and may be asked to isolate for 14 days, symptom-free or until a negative test is confirmed.

A quantity of 20-to-25 percent of lab-confirmed active COVID-19 positive cases in a specific segment (classroom, workout group, University activity, housing) initiates a COVID team engagement in consultation with the Minnesota Department of Health and the faculty/staff involved with that segment.

Terms & definitions from the Minnesota Department of Health (MDH) & Center for Disease Control (CDC)