The safety and well-being of our students, staff, and faculty is our priority. Informed by the latest data, science and public health guidance, Concordia University, St. Paul continues to take steps to create an innovative in-person, residential experience that will keep our community safe, ensure access and quality for our students and advance our academic mission during the COVID-19 era this fall.
University Information & Resources
The self-reporting form is to notify CSP's COVID-19 Rapid Response Team of persons believed to be affected by COVID-19.

Information transmitted by this form will be used by the University's Response Team to determine appropriate follow-up for addressing the needs of the campus community.

Along with our partner Sodexo, CSP has implemented numerous environmental systems across campus to elevate our cleaning procedures and ensure the environment exceeds CDC and MDH guidelines for face-to-face instruction for the upcoming academic year.

Concordia University, St. Paul is uniquely positioned to provide its students with as close to a traditional learning environment as possible due to its small class sizes and availability of learning spaces on campus.

Concordia University, St. Paul is committed to providing a safe and healthy workplace for all our faculty, staff and students. To ensure we have a safe and healthy workplace, we have developed the following COVID-19 Preparedness Plan in response to the COVID-19 pandemic. CSP follows Centers for Disease Control (CDC) and Minnesota Department of Health (MDH) recommendations. Managers and workers are all responsible for implementing this plan. Our goal is to mitigate the potential for transmission of COVID-19 in our workplaces and communities, and that requires full cooperation among our employees and students workers and management and students. Only through this cooperative effort can we establish and maintain the safety and health of all persons in our workplace. CSP recognizes the constantly changing environment and will continue to update the plan and procedures as new information becomes available.

ADMISSIONS UPDATE – JUNE 5, 2020

As your academic year comes to an end, we celebrate your achievements and look ahead with anticipation. At CSP, we wanted to update you on a few items:

Please contact us with any questions you may have. Enjoy your summer!

The Office of International Student Services is looking forward to welcoming international students back to CSP. ISS has received many good questions about the return to campus and classes, housing, and fall immigration requirements for F-1 students. The Fall Semester 2020 FAQ in the ISS Portal has answers to the most common questions and more. Please contact ISS with your additional questions at iss@csp.edu.
Frequently Asked Questions
We are looking forward to welcoming students to campus for an exceptional academic year of learning. The university will begin the fall semester with our normal face-to-face courses. If space modifications are warranted, CSP will be using recommendations from the Center for Disease Control and the Minnesota Department of Health higher education guidelines to inform our classroom and lab class layout. Physical distance, masking, and cleaning requirements will follow this guidance all around our campus. The university's COVID-19 response plans, which will include classroom social distancing adaptation, will inform classroom layout modifications.

Our team has been hard at work and are continuing to update our procedures to create a safe, healthy living environment. For new residential students, we have reserved Wednesday, September 2 for your move-in day.  This day prior to the start of Welcome Weekend on Thursday, September 3 will give you time to unpack, settle in and get to know what living in the residence halls will be like this Fall. Our student staff will meet with you to discuss policies, procedures and community living expectations during a global pandemic. More information will be forthcoming from Admissions and Residence Life and is also available on the Student Life FAQ section here.

Learn more about CSP's financial aid process and other frequently asked financial aid questions.

As we welcome our student-athletes back to campus this summer and resume operations in the fall, learn more about what to expect in terms of practice, venues, game operations, and the fan experience here.

Concordia St. Paul's Sodexo Campus Services partner continues to respond to the complexities presented by COVID-19 by proactively maintaining a safe and clean environment for the entire CSP campus community.  Sodexo Campus Services manages our facilities, custodial, and food service operations on campus and as an international organization has been able to draw upon the best practices around the globe to serve our campus.

Find the latest information for CSP employees as we turn the dial and return to campus to prepare for the fall semester here.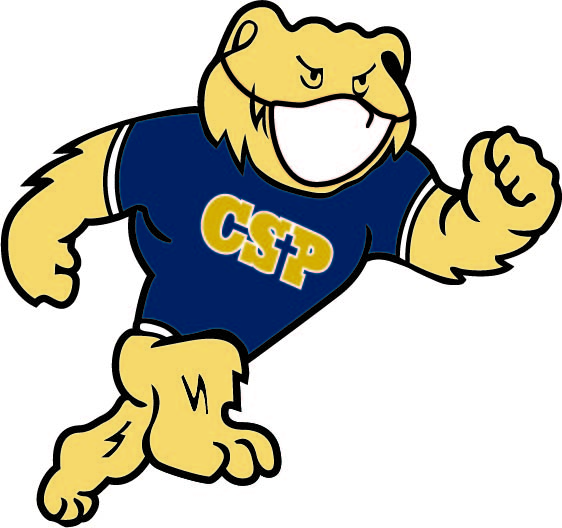 We are all in this together. If you have additional questions please do not hesitate to contact us.
staysafe@csp.edu
COMET'S COMMITMENT
As part of our priority to create a safe and healthy environment for everyone at CSP, we are asking you to adhere to our Comet's Commitment. This commitment asks you to both follow health mandates and guidance in both on and off-campus settings and encourage others to observe safety guidelines to help ensure the health and well-being of the campus community. We are all in this together as you work to achieve your educational goals.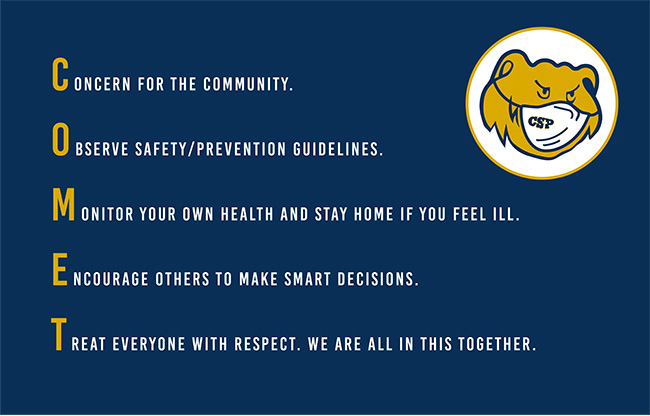 COVID-19 COMMUNICATIONS FOR CAMPUS COMMUNITY
Concordia St. Paul's Sodexo partner continues to respond to the complexities presented by COVID-19 by proactively maintaining a safe and clean environment for the entire CSP campus community.

"Before the pandemic, our campus team was trained with specific cleaning protocols," said CSP Sodexo Director Barry Kirsch. "As the outbreak began, we implemented additional, specific standard operating procedures and protocols designed to maximize the safety of all CSP students, staff, and faculty. Sodexo being an international organization can draw upon best practices from around the globe."

Kirsch added Sodexo's guidelines are based on recommendation set forth by the CDC and Minnesota Department of Health, which include:

Regular disinfecting of populated areas, including wiping all hard surfaces
All regularly scheduled areas cleaned will also be disinfected as part of the normal cleaning routine
Wearing of PPE, including face masks and gloves when cleaning
Practicing social distancing when interacting with CSP population
Regularly washing hands during the cleaning process
Not reporting to work if symptoms are present
Requiring vendors on-site to adhere to these protocols
Adding staff to disinfect common surfaces additionally twice a day

Additionally, Sodexo has modified its cleaning products and assembled a protocol handbook for all cleaning personnel on campus which contains various procedures for all situations that may be encountered due to COVID. The new cleaning solutions include the following:

Added Oxivir spray disinfectant, an EPA approved chemical that kills COVID
Added Oxivir wipes, used for surfaces where a spray does not work
Added additional free-standing disinfecting stations throughout campus
Added a commercial disinfecting fogger for spot disinfection of specific areas

Further, Sodexo added a specific protocol in a situation if a space on campus was contaminated with a known case of COVID. This includes:

Isolating the space for 1-3 days (12 confirmed air exchanges)
Follow the CDC recommended disinfection standard operation procedure
Wear proper PPE, including face masks, foot covers, hair protection and protective eyewear
All waste is treated as potentially hazardous waste and disposed of using hazardous waste protocols

Last, the Sodexo team is exploring different unique recommendations for universities including:

Leaving classroom doors open to minimize door handle exposure
Installing foot pulls on restroom doors
Providing best practice guidelines for CSP personnel on self-cleaning and disinfecting areas in between scheduling disinfecting
Add queuing imagery/icons for social distancing in areas lines form Commons Cafe, cashier etc.
Adding directional queues for passing foot traffic in halls and common spaces

Sodexo has also purchased a Sentry M4 device, which is a portable unit that has four full-spectrum UV Light Engines, arranged in back-to-back pairs. The light distribution and reflectivity of UV give you nearly 360-degree coverage. Each side can be individually height adjusted and powered by a standard wall plug. The device is great for disinfecting areas with unpredictable traffic patterns.  Learn more about the Sentry M4 here.

"The health and safety of CSP's employees, students, and campus visitors is our utmost priority," Kirsch added. "We are coordinating globally, supported by our technical experts in infection prevention and control to manage the impact of this outbreak."

Sodexo's approach is to reinforce its existing rules for food safety, personal hygiene, and infection control which will minimize the risk of COVID-19 or any other virus from spreading. As the situation continues to evolve, Sodexo will closely monitor any changes and will follow guidelines set by local health authorities.

Everyone can work to reduce the spread of COVID-19. Please follow these guidelines to help keep you and your family safe:

Cover your coughs and sneezes with your elbow or sleeve, or a tissue and then throw the tissue in the trash and wash your hands afterward.
Washing your hands often with soap and water for 20 seconds, especially after going to the bathroom or before eating. If soap and water are not readily available, use an alcohol-based hand sanitizer that contains at least 60% alcohol.
Avoid touching your face – especially your eyes, nose and mouth – with unwashed hands.
Stay home if you have cold- or flu-like symptoms, for 10 days after your illness onset and three days after your fever resolves without fever-reducing medicine (whichever is longer), and avoid close contact with people who are sick.

Up-to-date guidance from the Minnesota Department of Health on recommended community mitigation strategies can be found here.

Concordia University, St. Paul has canceled all face-to-face classes and transitioned all face-to-face classes to an online format through the remainder of the spring term. The health and well-being of our campus community is our top priority and the adjustments we have made are in support of all of our current and future Golden Bears.

We are grateful for the infrastructure to carry on our classes for the benefit of all our students and we want you to know that while our campus has physically closed, our faculty, staff, and resources are still here and available to you.

Please note: All courses that are currently offered online will continue without interruption.

Concordia University, St. Paul has made the difficult decision to cancel its Spring 2020 Commencement, which had been scheduled for May 1-2, 2020, due to the continuing global crisis of the coronavirus (COVID-19) pandemic. The health of our students, faculty and staff and our responsibility and integrity to the surrounding community is the foundation for our final decision. We appreciate your continued patience and pray for your health and well-being.

The following note from President Friedrich was sent out to the Class of 2020 graduating students:

Dear Students,

Greetings from Concordia University, St. Paul where we celebrate that "in Christ, we are a new creation" (2 Corinthians 5:17).

It is with great sadness that Concordia University, St. Paul has regrettably made the very difficult decision not to hold the previously scheduled May 2020 commencement ceremonies. I am heartbroken that we must do this. As I have talked to dozens of faculty and staff since arriving at CSP, I've been told again and again that commencement is the most inspiring event they have experienced during their service here. I was looking forward to congratulating you, and with the entire CSP community, celebrating your accomplishments.

Commencement is an important milestone in one's educational journey, a time of pride and joy, where families, friends and the entire University community celebrates and recognizes publicly the remarkable achievements of you, our graduates. We are truly sorry we cannot proceed as we had hoped, however, the health and well-being of you, your family and friends was paramount in our decision.

As you are well aware, things have changed rapidly during the past few days and are likely to continue to do so. Many of you have dealt with an abrupt end to your academic and co-curricular experience. For that, we apologize and hurt with you. We appreciate how difficult, confusing and life-altering this has been and will continue to be. We must follow federal guidelines that now limit public gatherings to no more than 10 people for the next three months in order to do all we can to support the common good of our community and nation. We do not want to jeopardize the health of anyone.

We are currently working on alternative options for graduates to participate in future commencement ceremonies if they choose to do so, and I pray you will. As plans are made and details put in place, we will communicate with you. In the meantime, please know that you are in my prayers. May these words from God's Word bless you today:  "Be strong and courageous. Don't be afraid or discouraged. For the Lord your God is with you wherever you go" (Joshua 1:9, NLT).

Blessings,
Rev. Dr. Brian L. Friedrich
President

More information can be found here.

The University Crisis Response Team continues to monitor the situation regarding the Coronavirus Disease 2019 (COVID-19) and prepares for business continuity and student safety in the event that action is required.

Concordia St. Paul will communicate with the entire campus community if/when our pandemic plan needs activating and/or we receive guidance from St. Paul, Minnesota and national health authorities. CSP is prepared to conduct traditional undergraduate classes online in the event the illness becomes widespread in Minnesota (traditional student experiences would be similar to snow day online learning.)

Proactively campus facilities and operation staff have already installed additional hand sanitizing stations and have increased cleaning frequency of common surfaces (door handles, table surfaces, etc.)

As in all situations, we encourage students, staff, and faculty to observe health best practices — wash hands frequently, cover coughs and sneezes, avoid contact with your eyes, nose, and mouth. If you are ill, stay home, except to receive medical care. Don't run the risk of spreading illness.  Protect yourself and your classmates. The faculty will be understanding and accommodating.

If the situation changes, CSP officials will inform the campus of the next steps.

Current information specific to the state of Minnesota can be found here.

Concordia University, St. Paul has canceled all face-to-face classes scheduled on Friday, March 13 and will transition all face-to-face classes to an online format beginning Monday, March 16 through the remainder of the spring term.

The University Crisis Response Team has been monitoring the situation regarding the Coronavirus Disease 2019 (COVID-19) for the past several weeks. The situation is fluid and changing by the hour, and our team has been dedicated to discussing and making decisions in the best interest of CSP's students, faculty, staff, and the entire campus community for the best course of action.

The core of our decision-making is maintaining the continuity of the educational experience. The health, safety, and academic well-being of our students is our top priority.

Please be aware that there are no confirmed cases of COVID-19 within the CSP community. University officials are continuing to monitor the situation on a daily basis in collaboration with the CDC, Minnesota Department of Health and regional health care agencies.

All campus-sponsored events, including lectures and fine and performing arts events, have been suspended until the end of the semester. CSP Honors Convocation and Research and Scholarship Symposium will be moved online. CSP will continue to evaluate the spring commencement ceremonies and will communicate further with those students.

All CSP athletic activities have also been suspended as the Northern Sun Intercollegiate Conference (NSIC) announced the suspension of all athletic activities for each of its 16-member institutions. All NSIC contests are suspended immediately. The league will continue to monitor and evaluate the situation and will make a determination on the remainder of the academic year later this month.

Residence Halls and dining services will remain open through next Friday (March 20). All residential students will receive an email from Residence Life with further information.

Students with questions about internships, student teaching, and clinic placement should contact their supervisors.

Campus Ministry will continue during regular Chapel hours via Facebook Live. Student services will be available online.

Faculty and staff will receive additional information from the Director of Human Resources shortly.  Students working on campus will be contacted by their supervisors.

The health and well-being of our campus community remain our main priority and we are grateful for the infrastructure to carry on our classes for the benefit of our on-campus students.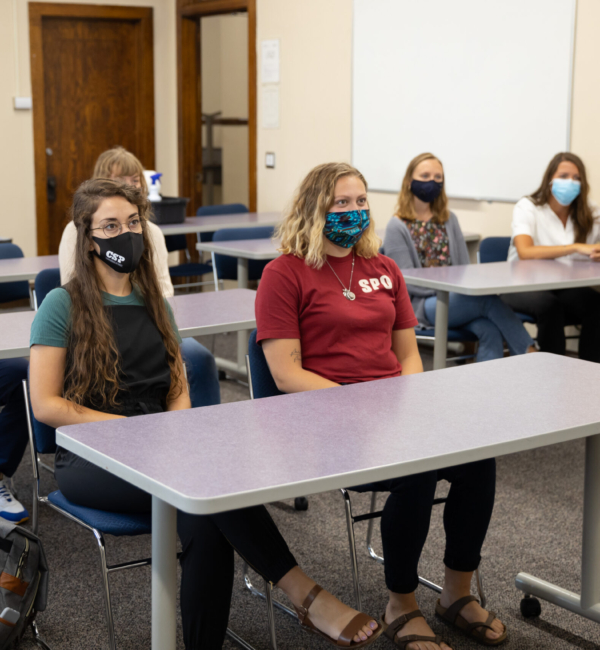 Glossary of Key Terms
Someone who is tested for the disease and a lab proves that they have it, communicated through the Minnesota Department of Health (MDH). Also referred to as "confirmed positive"

Based on the Minnesota Department of Health (MDH) and CSP's definition of close contact, they would appear to fit the definition. The student is contacted by the University and the University provides contact to the MDH. While this individual is waiting for contact by the MDH for evaluation, they should study remotely, be quarantined and avoid all campus functions. If experiencing any symptoms, the student is advised to consult a medical professional. The student should not return to class or campus activity until notified by MDH and campus contact tracing team. The student is advised to check CSP email and be responsive to phone calls/voicemails from MDH and the University.

Someone who was within 6 feet of an infected person for at least 15 minutes starting from 2 days before illness onset (or, for asymptomatic patients, 2 days prior to specimen collection) until the time the patient is isolated. Factors to consider when defining close contact include proximity, the duration of exposure (e.g., longer exposure time likely increases exposure risk) and whether the individual has symptoms (e.g., coughing likely increases exposure risk).

The separation of a person or group of people known or reasonably believed to be infected and potentially infectious from those who are not infected to prevent spread of the virus. Isolation for public health purposes may be voluntary or compelled by federal, state, or local public health order. Also referred to as "self-isolation"

The separation of a person or group of people reasonably believed to have been exposed to the virus but not yet symptomatic from others who have not been so exposed to prevent the possible spread of the virus. Quarantine may be voluntary or compelled by federal, state, or local public health order. Also referred to as "self-quarantine"

Social distancing, also called "physical distancing," means keeping a safe space between yourself and other people who are not from your household. To practice social or physical distancing, stay at least 6 feet (about 2 arms' length) from other people who are not from your household in both indoor and outdoor spaces. Social distancing should be practiced in combination with other everyday preventive actions to reduce the spread of COVID-19, including wearing masks, avoiding touching your face with unwashed hands, and frequently washing your hands with soap and water for at least 20 seconds. Also referred to as "physical distancing"

A person who may have the disease. The person did not get a lab test, or the test did not prove they have the disease. The person shows signs of the disease and is someone who is likely to have it. A doctor or another health care provide may decide (diagnose) that the person has the disease. Example: A CSP student-athlete may present a high temperature or other symptoms and may be asked to isolate for 14 days, symptom-free or until a negative test is confirmed.

A quantity of 20-to-25 percent of lab-confirmed active COVID-19 positive cases in a specific segment (classroom, workout group, University activity, housing) initiates a COVID team engagement in consultation with the Minnesota Department of Health and the faculty/staff involved with that segment.

Terms & definitions from the Minnesota Department of Health (MDH) & Center for Disease Control (CDC)