On September 23rd, we announced a slight easing of mask requirements on our St. Paul campus. For the time being, we will continue following those eased protocols, which took effect on Saturday, September 25th:
Mask usage is still required in common areas indoors and in classrooms for those who are not vaccinated.
Mask usage is strongly encouraged for everyone who is vaccinated.
Read the full article here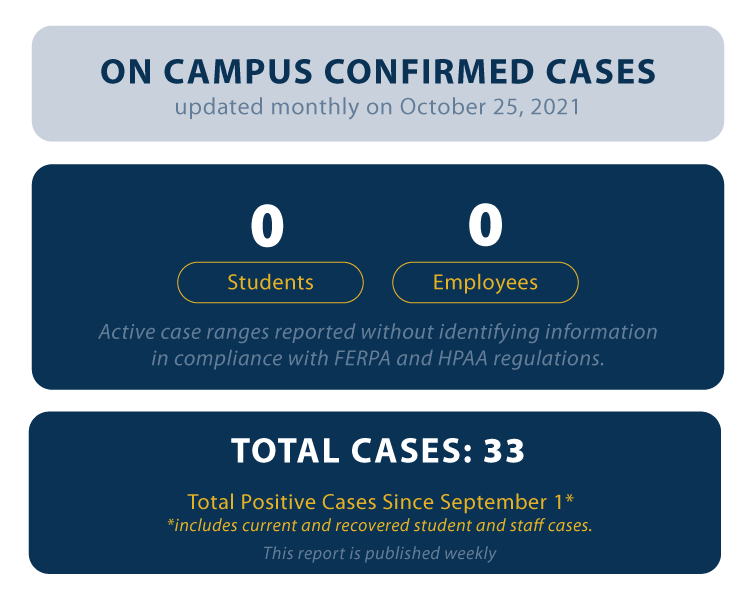 CSP COVID-19 Tracker
Current COVID-19 Cases on Campus

Add copy here about Vaccine Finders

Also are there any additional resources

Add copy here about testing sites

Also do we have any additional sites for staff & students

Does CSP require a COVID-19 Vaccine?

CSP is not mandating vaccinations by students, faculty or staff.

CSP has accepted the WHite Houses's invitation to participate in the COVID-19 challenge alongside college and universities across the country.

The Challenge asks participating colleges and universities to do three things:

Engage every student, faculty, and staff member. Make sure every member of your campus community knows they are eligible for a vaccine and has the resources to find one.
Organize your college community. Lead the way by identifying champions for vaccine efforts across campus and implementing a plan to get as many members of your college community vaccinated as possible.
Deliver vaccine access for all. Meet your community where it is: bring vaccines on-site and make it easy for students, staff, and faculty to get vaccinated sites nearby them this summer.

Does CSP require masks?

On September 1st CSP will be implementing the following policy.  CSP requires all individuals wear a face mask in all indoor public spaces to help protect the health and safety of our community.

How long will the face mask policy be in place?

CSP will continue to work with the Minnesota Department of Health and local authorities to evaluate the transmission of COVID in the area and make adjustments to the policy as it is warranted.

Are masks actually required in common areas of residence halls?

CSP will require the use of face coverings in all common areas of the residence halls including common bathrooms, hallways, laundry rooms, lounges, etc.  Students are not required to wear a face mask in their resident hall room or apartment.

Do you plan to update your CSP Covid 19 Tracker more often than the monthly that is listed on your website?

CSP will continue to update the COVID 19 tracker on a weekly basis.

How many units of on-campus quarantine and isolation housing does CSP have?

CSP will have a limited number of room available for students that are not able to quarantine at home or off-campus.

What are the plans for making sure students have food?

Sodexo Campus Services and Comet's Cupboard will once again offer options for delivery or pick-up for students who are ill. 

What are the plans for offering remote learning for these students?

CSP courses are built in our Learning Management System Blackboard that allows us to pivot to hybrid and online learning in the event the circumstances call for it.  This model worked very well last academic year and supported student learning during times when students were not able to attend classes due to illness etc.

ADMISSIONS UPDATE

As your academic year comes to an end, we celebrate your achievements and look ahead with anticipation. At CSP, we wanted to update you on a few items:

Please contact us with any questions you may have. Enjoy your summer!

The Office of International Student Services is looking forward to welcoming international students back to CSP. ISS has received many good questions about the return to campus and classes, housing, and fall immigration requirements for F-1 students. The Fall Semester 2021 FAQ in the ISS Portal has answers to the most common questions and more. Please contact ISS with your additional questions at iss@csp.edu.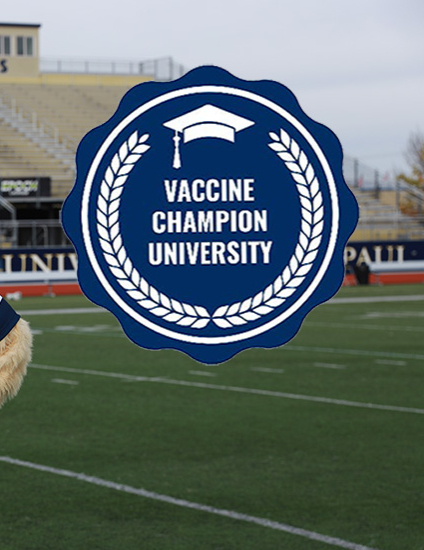 CSP has accepted the White House's invitation to participate in the COVID-19 challenge alongside numerous colleges and universities across the country.
Read More
COVID-19 INFORMATION OVERVIEW
CSP Welcomes Students Back to Campus this Fall for Face-to-Face Learning
The safety and well-being of our students, staff, and faculty is one of our highest priorities. There has been considerable work happening at Concordia University, St. Paul to ensure a reasonably safe and successful return to campus this fall semester. The efforts to address all the precautions needed in academics, athletics, residence life, dining, workspaces and student spaces on campus will be ongoing across campus to help protect the CSP community.
Higher Education Emergency Relief Funds (HEERF) allocations, reporting, and disclosures.
Learn More