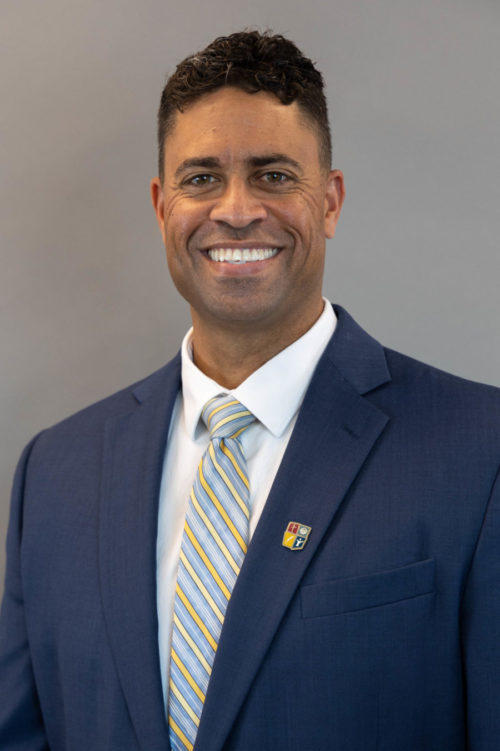 Academics, University News
SAINT PAUL, Minn., Oct. 21, 2021 – Concordia University, St. Paul, today announced an expanding role for one of the university's emerging leaders, Mychal Thom, as he has been appointed Dean for the College of Business and Technology. Thom currently serves as the Chief Diversity Officer and Associate Dean of Academic Innovation. The new role with the College of Business and Technology will allow Thom to have a deeper impact on program offerings and innovation to support CSP's focus on career-relevant academic programming. 
Thom joined CSP earlier this year and brings nearly 20 years of experience in secondary and post-secondary education, including nearly ten years within the Lutheran Church-Missouri Synod academic arena. As the former Head of School for Concordia Lutheran High School in Fort Wayne, Indiana, he managed a multi-million dollar educational enterprise and oversaw successful fundraising, strategic management, fiscal and labor management, and academic programming. 
"Mychal's leadership is already having an impact on CSP by creating programming and opportunities for students of all backgrounds to succeed and find career pathways aligned with their passions," said CSP's Vice President of Academic Affairs, Dr. Kevin Hall. "Under his leadership, we can continue to grow and expand our offerings in business and technology in the near term and determine the best long-term leadership fit for our Business and Technology undergraduate and graduate programming." 
In addition to his expanding role as dean for the College of Business and Technology, Thom will continue his work as CSP's Chief Diversity Officer – a role that has already broadened the university's ability to better support students of all backgrounds. He oversees CSP's growing Diversity Center, focused on increasing its visibility and outreach services to serve students and bring people together from diverse backgrounds. 
"The business and technology programs at CSP are proven to support successful careers in a wide range of industries, with coursework that addresses the changing dynamics confronting businesses today," noted Thom. "I welcome this opportunity to work with exceptional faculty and staff to help ensure CSP remains at the forefront of business while providing high value, undergraduate and graduate programming for our students."  
Thom holds Bachelor of Science and Master of Science degrees from Oakland University in Rochester, Michigan, and completed the Colloquy program at Concordia University, Ann Arbor.  
"We are blessed to have Mychal as a leader at CSP and for his gifts that empower our students to make the most out of their academic opportunities at CSP," said Dr. Eric LaMott, Provost and COO of CSP., "His focus on innovation, diversity, and student outcomes align strategically with our university's growth plans. His adjusted role with CSP will serve students and help us become even stronger and more creative in creating opportunities for lifelong success."