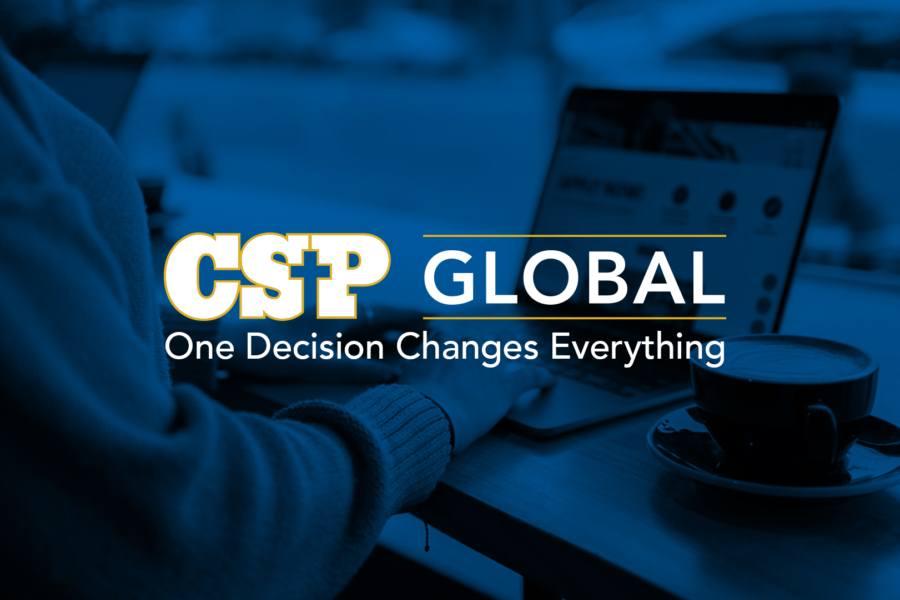 Academics, General News, Innovation & Growth, University News
SAINT PAUL, Minn., Jan. 10, 2023 – Concordia University, St. Paul (CSP), today unveiled the next iteration of the university's structure, which is designed to foster enrollment growth to 2030 and beyond. The university introduced a newly branded division, CSP Global, which will be home to Concordia St. Paul's proven online and hybrid undergraduate and graduate degree programs. At the same time, the physical Concordia University campus in St. Paul remains the vibrant hub for the university's traditional four-year undergraduate programming, as it has for 130 years.
CSP Global launches with more than 40 career-focused degree programs, including undergraduate and graduate offerings. Programs have been carefully designed over the course of CSP's 25+ years as a pioneer in online delivery of higher education. This alignment under the CSP Global brand brings greater clarity to how various degree programs are delivered. It also provides an even greater ability to support and invest in the traditional undergraduate programs for students at the Concordia St. Paul campus. By housing the online and hybrid programs geared for non-traditional students within CSP Global, the university can focus on enrollment growth via online programs, accessible regionally, nationally, and internationally.
"This introduction of CSP Global is the smart, logical next step in our university's long-term growth, while further strengthening our traditional on-campus presence for decades to come," said Eric LaMott, provost and COO for Concordia University, St. Paul. "Our university has doubled enrollment over the past decade, during a time when many other colleges and universities saw steep enrollment declines. CSP Global brings our student-centered, career-propelling private university degree programs to a broader national and international audience. We have set our sights on doubling enrollment again by 2030."
Designed for Working Professionals
Concordia University, St. Paul is now in its 130th year delivering higher education from its St. Paul campus and in Portland through the 2020 expansion of its nursing programs. A degree earned through CSP Global carries with it the full value of Concordia St. Paul. With fully accredited degree programs designed around the needs of today's businesses and organizations, CSP Global graduates emerge as top choices for businesses and institutions nationally and worldwide.
"Professionals with a Concordia St. Paul degree earn, on average, more than their peers from most other universities," added LaMott. "Our online programs now reach students in all fifty states and more than 40 countries around the world. Career-relevant degree programs via CSP Global prepare students for careers in business, technology, health sciences, nursing, education and other high-growth, high-potential fields."
"As an exciting new chapter of Concordia University, St. Paul, CSP Global is intimately tied to our identity as a Christ-centered Lutheran university and is committed to meeting the spiritual, academic, professional, and personal needs of each student," said Brian Friedrich, president of Concordia University, St. Paul. "The fundamental values of Concordia St. Paul extend to our entire community as we seek to form service-driven leaders who address challenges and opportunities in this world with wisdom, compassion, and grace."
With a wide range of masters and doctoral degrees available, CSP Global also provides exceptional opportunities for working professionals to advance their careers into leadership and executive roles.
CSP Global is designed to be accessible and affordable, which helps minimize the financial burden too common among college graduates. Since its highly acclaimed Tuition Reset of 2013, Concordia St. Paul has been the most affordable private university in Minnesota. Through CSP Global, the university extends an affordable, high quality private education to more people in more locations than ever.
Working professionals can find generous credit transfers to help support faster time-to-completion. The university provides a rapid application/acceptance process, coupled with guidance and support, to help students reach their academic goals on schedule.
More information about CSP Global is available here. Applications are open for students interested in summer and fall 2023 starts.
Contact:
Joe Thornton
VP of Strategic Communications & PR
Aimclear
612-355-9692
About Concordia University, St. Paul
Founded in 1893, Concordia University, St. Paul is a private Lutheran liberal arts university that delivers academic programs that are responsive to the needs of students and relevant to the demands of the job market. One of the most affordable private universities in Minnesota, Concordia St. Paul's student body consists of more than 5,000 students representing all 50 states and 40 different countries. For more information, please visit csp.edu.