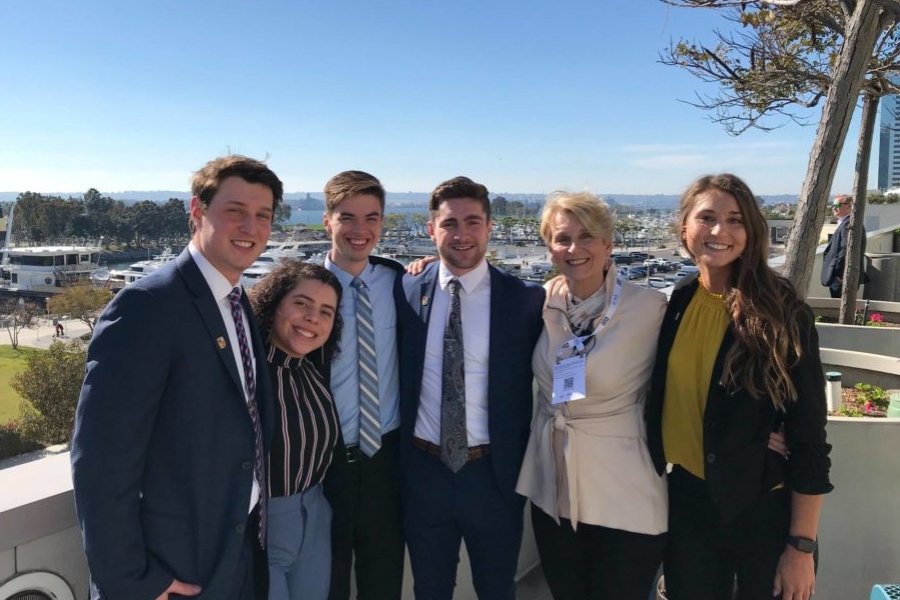 Academics, University News
Five Concordia marketing seniors recently competed in the National Grocers Association (NGA) student marketing competition at the NGA national conference held in San Diego, California. The NGA Student Case Study Competition strives to further the professional development of collegiate students and provides them with the opportunity to creatively address a real-world issue currently impacting the industry. The competition is now in its eighth year and nearly 80 students from 13 leading universities participated.
This year's case study was for Stepherson's SuperLo Foods (located in Memphis, Tennessee) with the business problem of hiring and retaining millennials and multicultural employees in a grocery store chain. Teams had 15 minutes to present their strategy to a panel of judges and conference attendees.
This was the second year that CSP students have participated. The student team included seniors Hope Schiller, Victoria Turcios Laparra, Spencer Bergen, Caleb Troe, and Jacob Steckler. Students worked under the guidance of faculty advisor Dr. Nancy Harrower, chair of the marketing program.
NGA also provided a mentoring program for the students to partner with industry veterans who helped educate students about the food and retail industry. An exhibition with more than 200 vendors was included, as were industry information sessions on technology, merchandising, e-commerce, and more.
Finally, a charity 5K run was held as part of the conference and CSP students Caleb Troe and Spencer Bergen tied for first place.
For more information on the National Grocers Association Student Case Study Competition, visit their website.