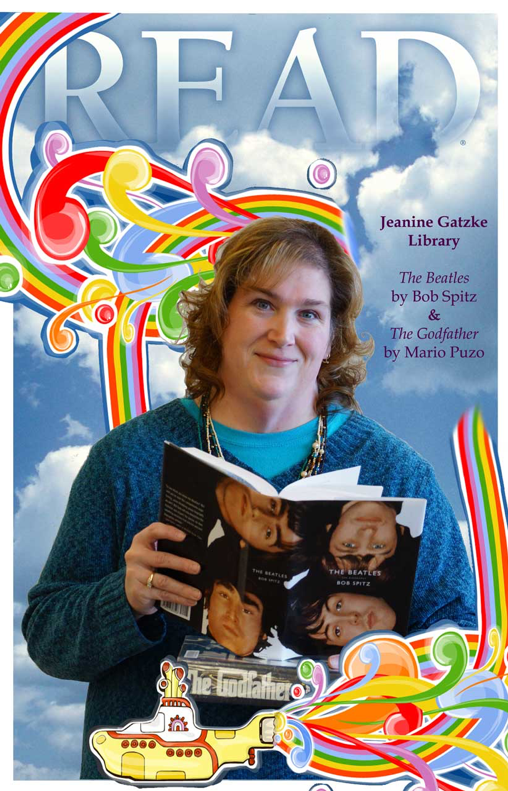 Admissions, General News, University News
The windows of the library have offered a slightly different view lately.
Posters of students, staff, and faculty posing with their favorite books are displayed as part of the CSP Reads campaign. CSP Reads celebrates literature and libraries and with good timing – April 8-12 also happens to be National Library Week.
CSP Library staff members Jeanine Gatzke and Megan Johnson-Saylor lead the campaign which is in its fourth year. It originates from the American Library Association whose first "Read" posters were of celebrities. At the time, participants could use the ALA's template to design their own "celebrity" poster. 
After the first year, Gatzke and Johnson-Saylor decided to rebrand them as CSP Reads as a way to personalize it for the CSP campus.
"We wanted to do something to celebrate National Library Week that engaged more than just the library staff," Gatzke and Johnson-Saylor explained. 
The goal of National Library Week is to boost the visibility of communities' libraries. CSP's Library is already a hub of campus; the heart of the CSP Reads campaign's goal is to increase that draw.
They thought that students might get a kick out of seeing themselves, their friends, and professors on posters. Considering that National Library Week falls during a busy and stressful part of the semester, they were hoping it leads to a fun way for faculty to show a peek into their personal interests and for the campus community to take a moment to focus on what they enjoy reading for fun – not just for academic studies.
"I love hearing people gush about their book selections. It's also fun to meet new people and watch everyone stopping to read the posters after (or even WHILE) we're putting them up!" Johnson-Saylor exclaimed.
Both librarians insist that while the project is a lot to coordinate, it is also a labor of love. 
"We really enjoy seeing it all come together and enjoy seeing people from all across campus participate," Gatzke offered.
If you're looking for another way to celebrate National Library Week, our librarians suggest visiting your local library as well as letting your librarian know you appreciate and value their knowledge. 
"Use the library! Librarians love helping people," both Gatzke and Johnson-Saylor agreed.
Check out all of the CSP Reads posters on campus during the remainder of National Library Week and throughout the rest of spring semester.