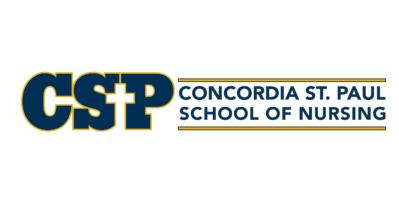 University News
Today's featured college being explored as part of CSP's new 2022 reorganization is the College of Nursing. The new iteration of CSP's academic structure will be composed of six colleges and debut at the start of the fall 2022 semester. You can read the full realignment announcement here.
Concordia's College of Nursing is already nationally renowned for its academic excellence and path to desirable job placement. As the program's upward trajectory continues, further emphasis will be placed on online programming while still maintaining and nurturing its in-person courses. The College of Nursing is uniquely positioned for success as it's able to offer programming at both the St. Paul, MN and Portland, OR campuses, as well as online.
College Leadership: Dr. Hollie Caldwell, Dean of the College of Nursing
Joined CSP in 2021
BSN, Loma Linda University
MSN, University of Phoenix
Ph.D., Medical University of South Carolina
Dr. Hollie Caldwell joined Concordia in June 2021 to lead the College of Nursing. Hollie brought with her an extensive medical background, including 11 years as a Certified Emergency Nurse (CEN). Dr. Caldwell is a United States Air Force veteran who served as a trauma team member for the United Nations Operation Provide Promise during the conflict in the Balkans. Her well-balanced expertise covers research in pathophysiology, pharmacology, nursing ethics, patient satisfaction, and more.
Dr. Caldwell's strong leadership and diverse professional experiences will continue to empower the College of Nursing to produce world-class healthcare professionals.
CSP College of Nursing Academic Programs
The College of Nursing offers two distinctive nursing degree programs for those looking to make an impact in healthcare settings:
Accelerated Bachelor of Science in Nursing (ABSN)
Bachelor of Science in Nursing (BSN)
Accessibility and convenient formatting are major factors for both degrees, which is why they're available at our St. Paul and Portland campuses in-person, with the ABSN also being available online.
CSP's ABSN is a rigorous four-semester degree track that equips students with hands-on, clinical learning experiences. The program caters to students who have already completed a set number of credits and prerequisites, in order to expedite their transition into nursing.
Meanwhile, the BSN program builds a strong foundation for CSP graduates to serve as generalists in a wide range of care settings. Dynamic learning opportunities combine in-person classroom learning with hands-on experiences in CSP's high-fidelity simulation labs and supervised clinical practice at actual health care facilities.
Graduates of either concentration will find themselves well-equipped to step into any number of nursing settings, including:
Ambulatory clinics
Forensic nursing
Long-term care
Rehabilitation
Home health
Rapid career advancement is common due to the emphasis placed on leadership and management preparedness. Many CSP nursing graduates quickly move into charge nurse, assistant manager, and nurse manager roles within just one to two years of degree completion.
"Being elevated to a College of Nursing recognizes the achievements of the nursing faculty to date and acknowledges our ability to grow and innovate," said Dr. Caldwell. "The CSP realignment comes at a time in higher education when many private, religious universities are struggling for survival. Our leadership is focused on growing enrollment and establishing educational programs within each college that not only allow sustained operations, but help the entire university thrive."
Challenges (5-10 years)
One of the greatest challenges ahead for the College of Nursing is the future expansion of degree offerings, including graduate-level options. Meeting the needs of a shifting healthcare environment means the creation of an online graduate nursing program. However, careful planning and research are necessary when entering such a competitive market.
"We are engaged in trendspotting, analyzing national graduation and enrollment data, and collaborating with our communities of interest to ensure any potential nursing graduate program offered is relevant for the post-pandemic student and healthcare landscape," added Dr. Caldwell.
The continued pursuit of industry-leading professionals transitioning from patient care settings into faculty roles remains a top priority. Concordia has collaborated with its partners to develop strong faculty recruitment strategies that focus on attracting nurses looking to move into faculty roles.
Industry trends for clinical education models are rapidly evolving away from traditional random opportunity and toward simulation. CSP embraces that change and is actively collaborating with our clinical partners to explore those new models, which are more mutually beneficial. By using simulation, faculty are able to help students hone their critical thinking skills and prepare them for real-world scenarios.
Opportunities (5-10 years)
While all industries were shaken by the COVID-19 pandemic, the profession of nursing is one that's been uniquely affected in profound ways. The national shortage of nurses has created an opportunity for the College of Nursing to aid in replenishing that deeply important workforce with capable, career-ready nurses.
Another area of opportunity for the College of Nursing is for the delivery of quality nursing education options for rural communities in Minnesota, Oregon, and their surrounding states. The healthcare struggles unique to rural communities often call for alternative curriculum delivery formats. To better serve those communities, CSP nursing faculty have become experts in online course development, partnership agreements, and multi-state regulation. In turn, rural communities will see an increase in the number of well-qualified, difference-making nurses providing care in their locales.
With the program's expansion to the Portland, Oregon campus in 2020, new growth opportunities became available. The addition of the ABSN track in 2021 provided an influx of new students eager to add to their educational foundations and enter the nursing field. To encourage recurring enrollment growth, the College of Nursing has eliminated some prohibitive barriers in the admissions process. The development of the "Guaranteed Admission Pathway" aided in striking down those barriers for students who complete their pre-nursing courses at CSP.
Enrollment Trends
Both of CSP's nursing degrees are relatively new offerings for the university, yet both are showing signs of stability and growth.
ABSN – Portland and St. Paul
One of the newest degree programs at Concordia is the ABSN. After the acquisition of the Portland nursing program in 2020, CSP launched a twin ABSN degree in St. Paul. First offered in fall of 2021, the ABSN enrolled 31 students in St. Paul and 231 in Portland. With the massive national demand for nurses and the emphasis the program places on career preparedness, ABSN enrollment is expected to climb even further.
BSN – St. Paul
The BSN at Concordia continues to be a strong point of the nursing program. Enrollment sits very close to the cutoff of 48 students each year, with 38 students joining the program in fall 2021.
The Go-Forward Strategy for the College of Nursing
The College of Nursing is prepared to educate the next generation of impactful nurses and well-positioned to continue to thrive post-realignment. While the college will remain static structurally through the realignment, leadership has placed a renewed focus on the addition of valuable faculty members, the development of new academic offerings, and the improvement of education delivery in rural communities. Work has already begun to meet those goals while continuing to equip the nurses of tomorrow with relevant, career-specific skills. Dr. Caldwell's vision for the future of the college is one of clarity and achievement.
"Concordia's College of Nursing will be an exemplary, academically respected, Christ-centered nursing program that cultivates creative and innovative thinkers while fostering meaningful partnerships in the healthcare community to collaborate on clinical and academic best practices," said Dr. Caldwell.