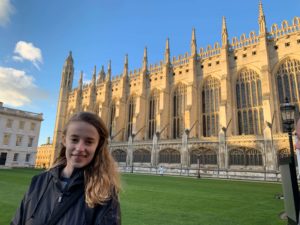 Academics, University News
Concordia University, St. Paul's C.A.L.L. Center is pleased to announce CSP student Bethany Mrosko received a $4,000 study abroad scholarship from the Hilda E. Bretzlaff Foundation, which provides tuition and book scholarships to students from the United States or the United Kingdom.
Scholarships are available to one or two students who can demonstrate need each semester. Mrs. Bretzlaff, a woman of high integrity, embraced a free market and capitalistic society. It was her wish to assist students possessing high moral and conservative character with their education endeavors so that they would become responsible citizens, dedicated to improving and preserving moral and democratic standards in both the United States and England.
Mrosko is a junior honors student majoring in Christian Ministry with a minor in dance. She received this scholarship through Westfield House, a Concordia-sponsored study abroad program in Cambridge, England. Westfield House is the house of theological studies of the Evangelical Lutheran Church of England. While theology is the main focus, CSP's study abroad students may take courses in many liberal arts areas.
The award has allowed Mrosko the freedom to travel and enjoy her semester abroad and without financial strain. "I have been learning so much in the U.K., both through my studies and all the traveling I have done and I am excited to continue learning for the next two months!" she explained.
To learn more about study abroad opportunities, visit the C.A.L.L. Center's study abroad website. Follow Mrosko's adventures in the United Kingdom on the CSP Study Abroad Blog.