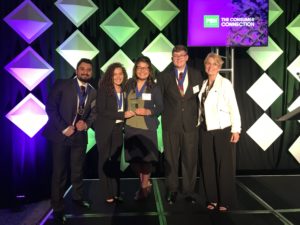 University News
CSP's marketing seniors took first place at the Produce for Better Health (PBH) Foundation's annual collegiate marketing competition at the end of the spring semester. Concordia was one of only three universities invited to PBH's annual conference, where they presented their comprehensive marketing plan for a new product called "Aunt Abby's Zucchini Flour."
The students who worked on the marketing competition included graduating seniors Ali Alsaffar, Jillian Bloomer, Sophia Hill, Mallory Schmitt, and Daniel Wood. Dr. Nancy Harrower was the faculty advisor and guided the team.
The new zucchini flour product developed for the project is unique in the food industry, and it capitalizes on a rising need for gluten-free and nut-free foods. In the last few years, there has been a strong rise in the gluten-free market. According to research from 2015, roughly 6.8% of all food purchases were gluten-free.
Today, some 3.1 million people across the U.S. follow a gluten-free diet. About 72% of those people are classified as people without celiac disease, but who avoid gluten. According to a 2015 study by Gallup, one in five people now reduce or eliminate gluten from their diets. 
Aunt Abby's Zucchini Flour is made from dehydrated zucchini, which is ground into a fine powder (flour). Zucchini flour is a healthy alternative to the all-purpose white flour for consumers who are celiac disease, are gluten-intolerant, or have food allergies. The student team conducted primary and secondary research for the project, eventually arriving at the final product form and brand. Not only did they grind dried zucchini into flour, but they also baked the new flour into delicious cookies and cakes.
Student Mallory Schmitt presented the team's work to a panel of judges and several hundred conference attendees.