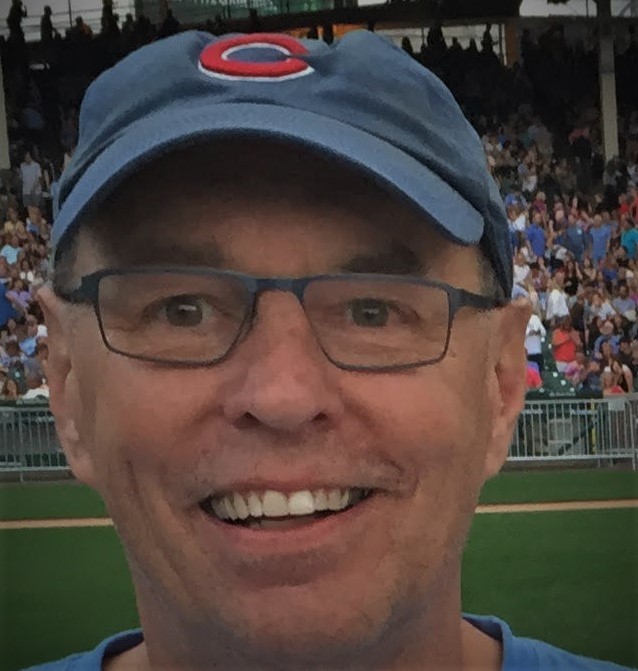 Academics, General News, University News
With a background in math and physics, CSP Professor Tony Ervin worked as a 3M engineer for nearly 30 years. He has always had a passion for teaching and knew it was something he wanted to pursue post-retirement. 
"When I was in graduate school I taught part-time to pay my bills and I loved teaching. So, when I retired from 3M I knew I wanted to go back to this," he tells us. In 2014, he joined CSP's faculty of practice and has been teaching Math 101 to online students ever since.
While Ervin has a knack for mathematics, he understands that it is a subject where many students struggle. Over the last six years, he has developed a teaching method that relies heavily on compassion and empathy. This has been effective in creating an environment where his students can comfortably reach out, whether they are struggling to understand coursework, or trying to find a balance between their education and their day-to-day lives. His method is one that students have responded positively to and is proving to be crucial as we adjust to a COVID-19 world. 
"My students have a lot of math anxiety," he says, "It's a seven-week class and so their anxiety is very understandable because they only have seven weeks and it's a lot of work, but," he emphasizes, "it's a lot of fun." 
That anxiety has only increased as already busy students have now had to factor in a whole new set of obstacles related to the ongoing pandemic. 
Ervin explains, "I've got students that are working in hospitals and they're taking care of COVID patients, and they are very, very concerned that they might get sick and not be able to finish the class. So, what I do is let them work ahead as far as they want to work ahead. They're very bright, very talented because they're working full time and they can do it. And they are very understandably worried."
During the spring semester, one of his students was living in New York City in a neighborhood with a high rate of COVID-19 cases. She shared with Ervin that she just wanted to get through the course, so if she did get sick, she wouldn't have to worry about keeping up on assignments.
"If they want to move ahead and get through the class quickly because they're worried, by all means, I'll let them work as fast as they get through it," Ervin says understandingly, "So I've had students who essentially do the class in five weeks rather than seven."
Ervin has also made sure to be accommodating for students who may need extra time. 
Juanita Colbert was one of Ervin's spring semester students. She was finishing her Childhood Development degree when the world was suddenly engulfed by the pandemic. Shortly after COVID-19 began to rapidly spread throughout the country, Colbert's grandmother contracted the virus. 
She shared her concerns with Ervin and he offered her his prayers and support. Days later, Colbert's grandmother had passed. As a mother, wife, student, and kindergarten teacher/after-school program director, Colbert already had a lot on her plate. Now, she had to factor in time to grieve. 
"I had to maintain my focus, even after losing a loved one," Colbert says. When she felt overwhelmed, she took breaks to clear her head before quickly jumping back into work. 
Ervin whole-heartedly expressed his sympathies and offered her extensions as she processed the grief. 
"She caught up," Ervin proudly declares, "She got an A in the class. To be able to do all that, to grieve the loss, and work full time, I so admire that young lady, I really do."
Colbert conveys her appreciation for Ervin, saying "I don't think words can explain my experience working with professor Tony Ervin. Going into his class knowing that math was my weakest subject was terrifying and I did not know what to expect. Professor Tony Ervin has been nothing but very helpful, understanding, and very supportive throughout the entire course from the beginning to the end."
"Honestly, the things I do aren't profound." Ervin says, adding, "I've been a student myself. I understand the hardships so I just try to use that life experience, humor, and flexibility."
Ervin prioritizes creating relationships with his online learners to help them feel comfortable throughout the course and ensure that they succeed. 
"The basis of how I teach 101 is using compassion and empathy," he shares, "If you teach with compassion and empathy, if the students are going through difficult times they may share them with you."
He recognizes this as an important part of his role as an educator, now more than ever before. Many of his students are enrolled in online programs, meaning they are often juggling a handful of commitments in addition to their schooling. This can include working full-time, raising children, and serving in the military. They also lack the daily in-person interactions found in the traditional classroom, so open communication can be more challenging to establish.
Ervin has found a way to break down that digital barrier and create an approachable environment through the power of sharing stories. He explains that, generally, if he opens up to students, they will open up to him. 
He humbly describes his method saying, "It's not very profound at all."
During the spring semester, Ervin had another student who, like many parents, suddenly became quarantined at home with her children as shelter-in-place orders took effect. She found herself struggling to focus on her courses, given the change in environment. 
As she and Ervin exchanged emails, he shared a memory of hosting a sleepover birthday party for his daughter. Being the father of an only child, Ervin illustrated what a blast the party had been, but how demanding it was to be responsible for so many children. He couldn't imagine doing it every day, while simultaneously earning a college degree. Through this recollection, Ervin was able to empathize with his student and give her space to speak openly. By the end of the semester, she had aced the course. 
Since he began teaching Math 101 in 2014, Ervin has made it his mission to support his students and help them succeed. Ervin's class has always been online, so he was fortunate enough to skip the scramble to readjust his coursework as CSP's campus temporarily closed to slow the spread of COVID-19, but that does not mean his students went unaffected. 
"They still had to do the work, but what you had to do was make sure to give people extensions all the time and you had to be more patient listening to them." Ervin explains.
For Ervin, teaching during the pandemic is not much different than what he had been doing before. It has merely been an extension of his simple philosophy to teach with compassion and empathy. 
When asked if he has any concerns about teaching in the upcoming semester, he lights up enthusiastically. "Oh no, it's the opposite, "he says, "I can't wait, I'm looking forward to it." 
Ervin explains, "I love what I do. I'm 67 and I love doing it, I'll do it forever."