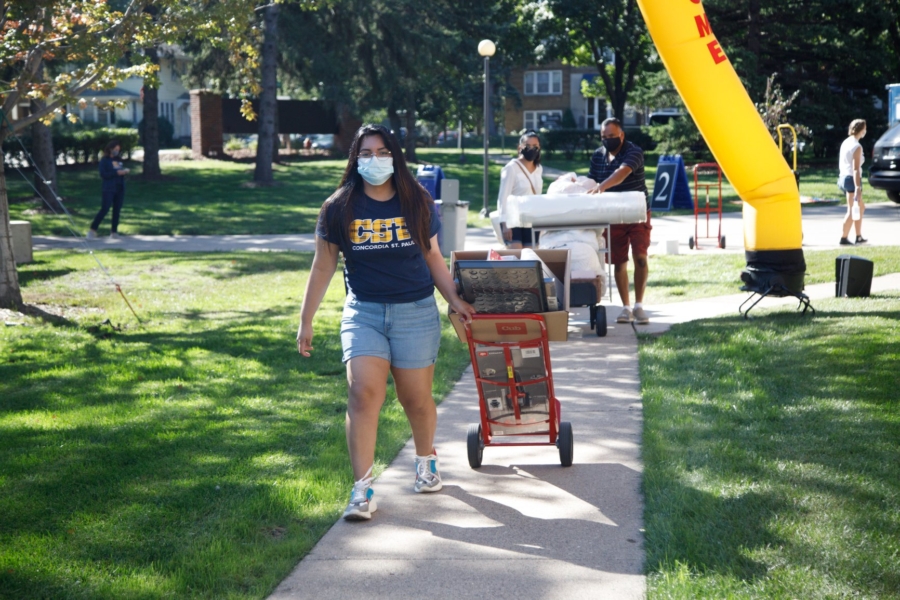 Academics, Admissions, General News, University News
Concordia St. Paul welcomed its largest incoming class to campus Wednesday amidst a year that has proven to be unlike any other due to the COVID-19 pandemic. 
While this year's Welcome Weekend might look different than years past, what hasn't changed is the excitement that accompanies the beginning of a new academic year.
Even underneath masks, the smiles were plentiful during Move-In Day. The energy and anticipation of the students moving into the residence halls and the families present to see them off brought campus alive. The weather featured abundant sunshine and cooler temperatures which, coupled with the hard work and planning of teams across CSP, provided students with the opportunity to be physically distanced but still socially engaged. 
"I am so proud of the students and families that helped make our move-in day a success," said Jason Rahn, Associate Vice President for Student Life and Dean of Students for CSP. "They arrived at their designated times and were able to get situated in their rooms, all while following the COVID mitigation guidance we have in place."
Wednesday's Move-In Day officially kicked off CSP's 2020 Welcome Weekend with festivities including Comet's Cookout and more spanning into the upcoming weekend. Classes for all CSP students begin Tuesday, September 8. As classes resume, Concordia is set to break another enrollment record for the 2020 fall semester.