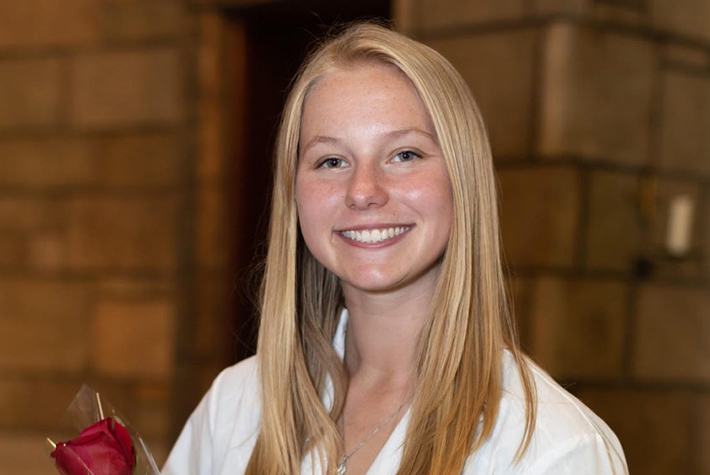 "The faculty and my fellow students allowed me to be myself as well as push me to my full potential while trying to obtain the degree I was passionate about."
Jade Weller is a 2019 exercise science graduate with the intention of pursuing her Doctor of Physical Therapy (DPT) as part of CSP's pre-professional programs. In addition to the impact her professors had on her during her undergrad, she was a member of the Golden Bear soccer team where she formed lasting relationships with her teammates. Hear from Jade about her next steps as she begins the DPT program at St. Catherine University.
Q: Why did you choose CSP?
A: I chose at first to play Division II soccer, but fell in love with the student experience.
Q: How would you describe your CSP experience?
A: Awesome. I enjoyed the learning experience and the people who I met along the way.
Q: What motivated you as you pursued a degree from Concordia?
A: The faculty and fellow students allowed me to be myself as well as push me to my full potential while trying to obtain a degree I was passionate about.
Q: What is the next step in your career pursuit?
A: I will be going for my Doctor of Physical Therapy degree at St. Catherine's University starting in September 2019 and ending in May 2022.
Q: Who were some of the people at CSP that influenced you the most, and how?
A: Dr. Joseph Ostrem – one of my favorite professors. He showed such passion for his teaching and helped me to desire such passion in my future profession. My CSP soccer teammates and staff helped me to keep falling in love with the game as well as provide me a spot to relieve stress. Tim Greve and Ted Trzynka both helped give honest advice to me for my journey to becoming a physical therapist.
Q: What are your favorite memories from your program?
A: My favorite memories come a lot from soccer and the successes we had. I also loved meeting students that had the same passion and desires as me.
Q: How has your CSP education impacted your life and career?
A: CSP has given me a ton of friends and connections that I would like to maintain for both work connections and friendships.