Guest Services, Minnesota Vikings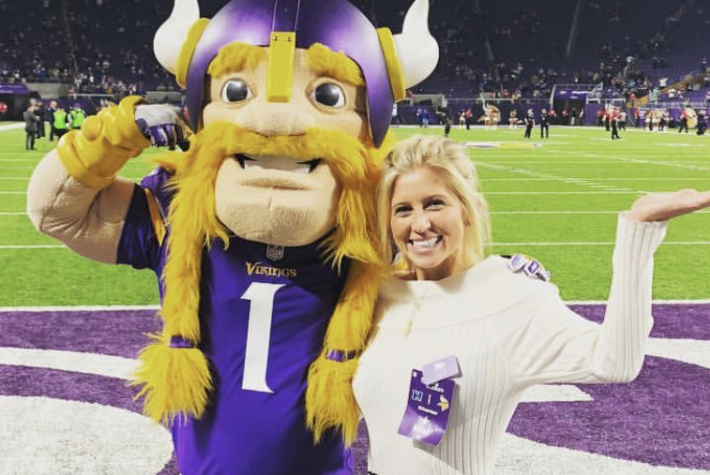 "I loved that communication studies was broad and allowed me to go into just about any field I wanted to go into. I knew my possibilities were endless."
CSP graduate Jordan Gray graduated in 2017 with a degree in communication studies. While she entered college planning to pursue an exercise science degree, she chose communication studies because it offered the opportunity to enter just about any industry. Today, Jordan is part of the Minnesota Vikings' Guest Services group which aims to provide an incredible game day experience for Vikings fans. A former student-athlete, Gray has been able to combine her love for sports with her ability to communicate effectively. Before being hired on full-time, Gray completed internships across several facets of the Vikings' public relations (PR) division including their game day PR, training camp PR, and more.
Read more from our Q & A session to find out how Jordan discovered her passion for communication studies and how her time at CSP impacted her academically and professionally as she navigated into the workforce as a graduate.
Q: What were your most important factors to consider when you were selecting a college?
A: Culture was very important to me. Choosing a school where I loved the environment and the setting was crucial. Selecting a school that had the ability to give me opportunities was also important to me. Being in the cities, there are so many companies, organizations, and professional settings to help give you experience in the real world, no matter what type of career you choose to pursue. The smaller class sizes became one of the most valuable aspects of my education.
Q: What made you select the communication studies program?
A: I came into college pursuing exercise science and then a biology degree. While I realized that wasn't what I wanted to do professionally, I had no clue what was next for me. After considering my personality traits and interests, I found that the communication studies program was right for me. I loved that it was broad and allowed me to go into just about any field I wanted to go into. I knew my possibilities were endless, which was a little overwhelming, yet comforting at the same time.
Q: What was interacting with your professors like?
A: I really got to know my professors extremely well – both in my department and outside of my department as well. I became close with quite a few and still communicate and keep in touch with some. It was almost as if they were a professor, mentor, colleague and friend all wrapped into one. Kim Flottemesch was the professor who had a really large impact on my education at CSP. She is committed to her students. She was honest with us, clear with us, and really believed in us. She pushed us to reach our full potential, yet was always there for support when we needed it. She made my experience in communication studies so positive and memorable.
Q: Talk about any academic services such as tutoring, career services, academic advising, or workshops that were particularly helpful as a student.
A: The Career Development Office was valuable to me when getting ready to enter the professional world. I learned about resumes and interviews which, as a graduate in the process of applying for positions, is EXTREMELY important. The internship that I had with the Minnesota Vikings really prepared me for my next steps professionally. Obviously, education is beyond important but that real life experience is what puts that education to use and is what prepares you for your professional path.
Q: How has Concordia prepared you for your career? 
A: CSP has prepared me for my professional life by giving me a great education that included caring professors and amazing classmates. It also gave me multiple real-life, professional opportunities and experiences that gave me confidence in my next steps. During my time here, I had a busy schedule with a variety of obligations and priorities. I was a student-athlete involved in sports, clubs, and organizations that all helped me to become a well-rounded individual.