Professional Writing Tutor, Metropolitan State University; Assistant Information Specialist, South St. Paul Public Library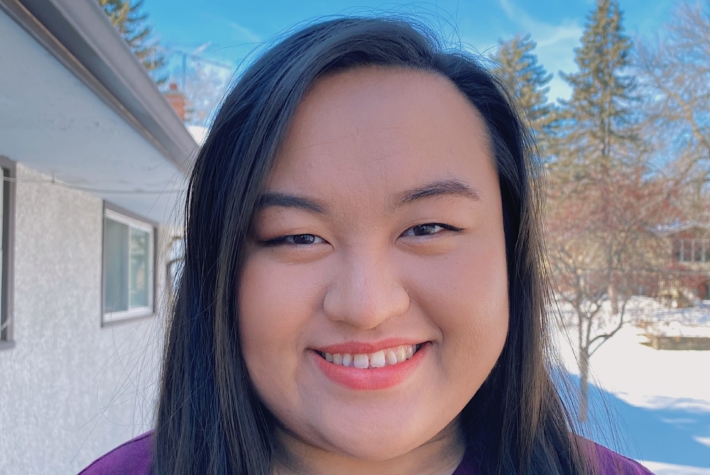 "Even if I'm not the best writer, I hope my small imprint will help open conversations and help people my age be reminded that we have a lot of work to do."
CSP graduate Mainhia Moua, Creative Writing '17, is currently a professional writing tutor at Metropolitan State University and an assistant information specialist at South St. Paul Public Library. Within the next couple of weeks, one of her pieces will be published in a book of short stories. We were provided the opportunity to speak with her on her published piece and how her time at CSP influenced her writing journey.
The book was brought together by the organization, Hnub Tsiab: Hmong Women Achieving Together. Mainhia became involved in her third year of college when Hnub Tsiab (pronounced as nhoo-chia) hosted a writing retreat which helped Mainhia determine if she really wanted to pursue a path in creative writing.
Their collection of essays, Standing Down the Tiger: Stories of Hmong American Women, shares the stories of various Hmong-American women as they navigate through their lives in a bi-cultural world. Written during her undergraduate years at CSP, Mainhia's short-story, "My Name is Hmong," reveals the story of her name and how it affected her as she grew up in America. Being heavily influenced by her Hmong heritage, Mainhia says, "Even if I'm not the best writer, I hope my small imprint will help open conversations, help people my age be reminded that we have a lot of work to do. I want to help the older generation know that we don't despise them; we appreciate their presence, stories and experiences, but we can also bring new insight as well." 
During her years at CSP, Mainhia was involved with Sigma Tau Delta, the English Honors Society, as Vice-President. She occasionally wrote for CSP's Newspaper, The Sword, and did work-study for CSP's writing center. These activities allowed her to know what was going on around campus; she also had the opportunity to interact with those outside of her normal community as well as gaining more general knowledge.
Mainhia was able to create significant relationships with faculty in the English department as she conversed with them about schoolwork and future career planning. One of her favorite professors would be Dr. Debra Beilke. "She had a sincere passion for literacy, the arts, and students," Mainhia explained. She took an interest in me right away, saw my potential, and wanted me to strive and grow. She opened up opportunities for me, advised and coached me when I felt down, and also helped me a lot academically."
As the publishing date gets closer, Mainhia feels nervous and anxious. However, she is more than ready to see people learn more about the Hmong culture and witness the conversations that will sprout from it.
"All of the writers come from different walks of life. Some of them are married, single, male, female, young, old (however you define that). So we all take a different stab at it with our own slice of our lives. Some may take a more traditional route; some may take a more artistic and creative mood. Regardless, we all share the same common theme of being confident and brave enough to fight whatever tries to bring us down."
A publication celebration will be held between 2-4pm on March 8, 2020 at St. Catherine's University. For more information, visit http://www.mnhs.org/event/8163.